FTL: Faster Than Light DEALS
Wasn't it cool when you watched a show like Star Trek or Battlestar Galactica and, in the midst of a battle, the captain would should orders like "Ensign! Divert power from rear thrusters to shields!" or "Seal the bridge and vent the airlock, we've been boarded!" That's pretty much what indie game FTL: Faster Than Light is based on.
You play the captain of a cruiser for the Federation (it's always a federation, isn't it?) that is at war with a rebel faction that happens to be winning. You have been given crucial information as to the rebellion's weakness and have to make it across the galaxy to deliver this to high command. Along the way, you will acquire the means to upgrade your ship so you just might have a fighting chance against the rebellion's overwhelming fleet. It's not clear what the rebellion represents, exactly, only that it's your job to stop them. While the story is as bare-bones as it gets, FTL does a pretty good job of creating a fleshed out sci-fi world. It is not overly descriptive, but you can piece the world together enough through in-game events.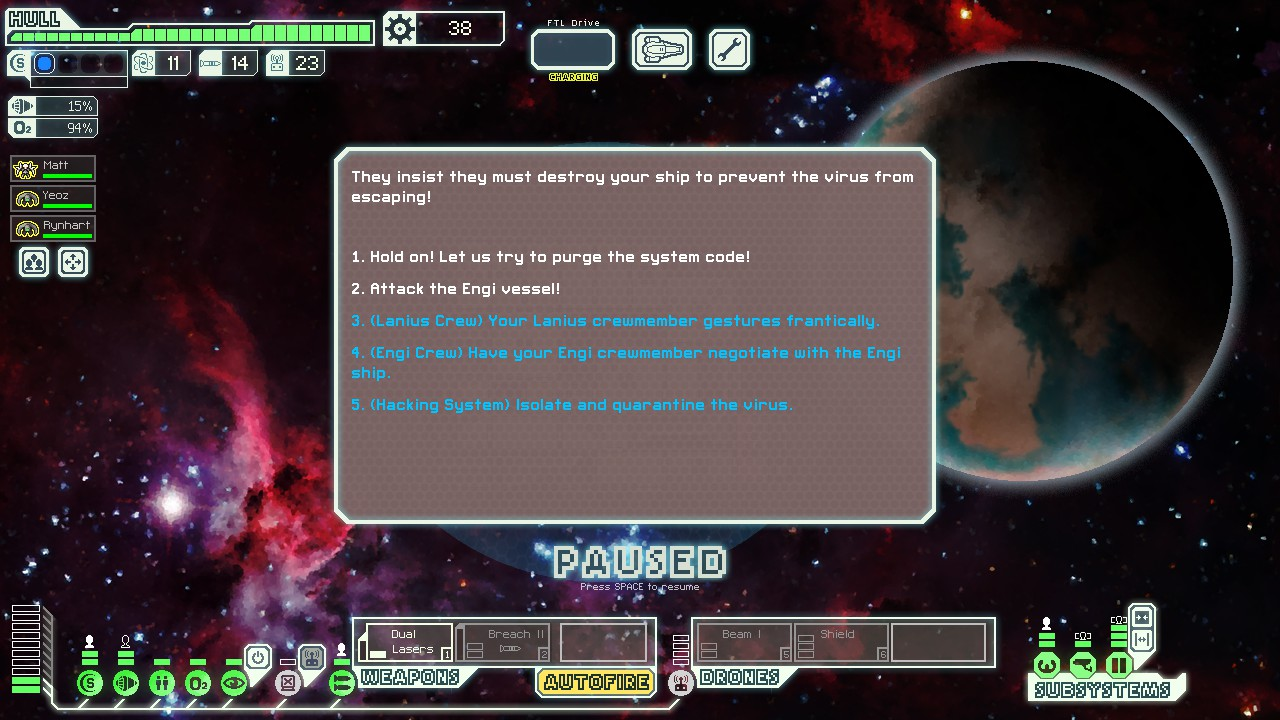 FTL uses certain roguelike elements. If you're unfamiliar with roguelike games, it's a style of game that emphasizes procedurally generated levels, high difficulty, and permanent death. Unlike a true roguelike, which is based on dungeon crawling, FTL is based on strategy and simulation mechanics. Most roguelikes expect you to die the majority of your playthroughs and FTL is no different. One of the tooltips at the start even reminds you that "losing is part of the fun!" Strangely, it's true. When playing a roguelike, you are freed from the frustration of dying because it's expected. The goal isn't as much about winning as it is starring in your own daring adventure and seeing what happens. For a space-based game, it works especially well. The cosmos is dangerous and unpredictable, so why should you expect an easy trip?
FTL's map is divided into sectors. In each sector, you warp from one beacon to the next, encountering various events that are randomly generated. These events include ship to ship encounters where you engage in strategic combat, scripted events with a variety of possible outcomes, shops where you can buy equipment for your ship, and the occasional spot where nothing really happens. Time is of the essence, however, as you need to make it to the exit beacon before the rebel fleet is upon you. If that happens, you can still escape, but you don't get many rewards and the fight is tough.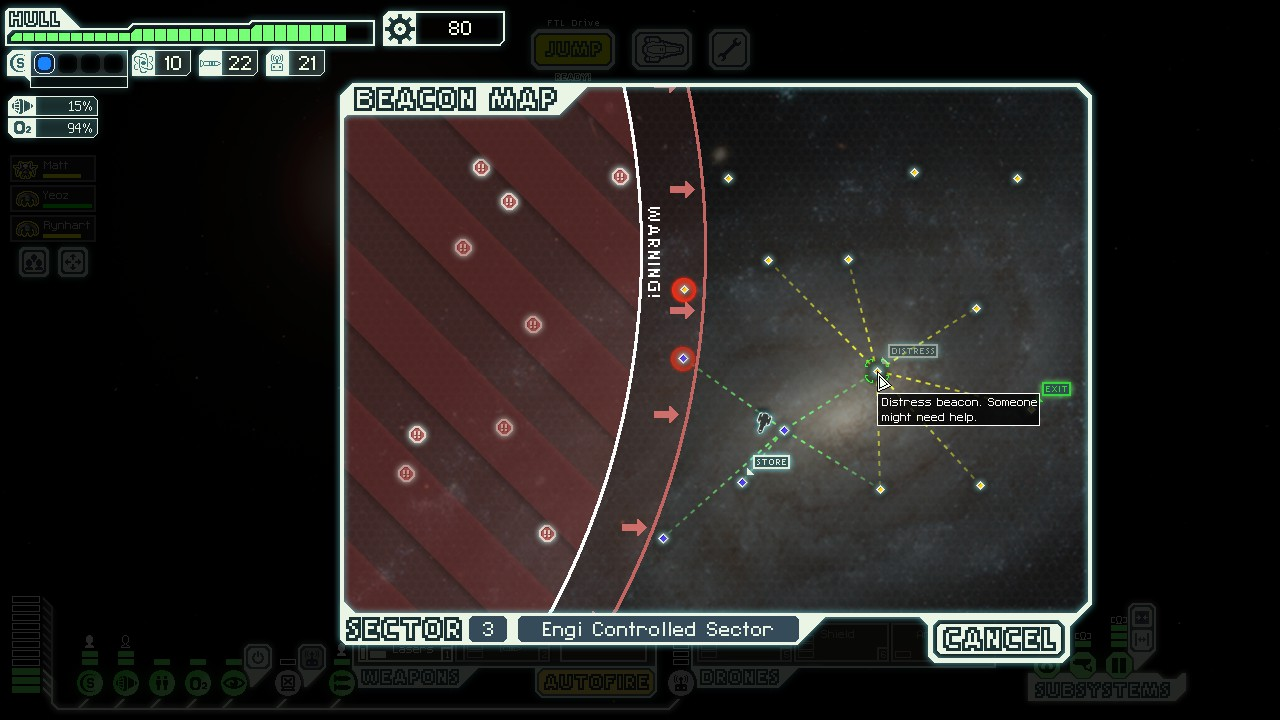 What really makes FTL shine is the wide variety of strategies you can employ in combat, both offensive and defensive, and the array of ships that reflect that. Pepper your enemy with a dozen tiny lasers so fast their shields can't recover fast enough? Check. Disable their oxygen and major systems with ion blasters until the crew suffocates? Check. Board them with your crew and wreak havoc from within? Check. The possibilities are endless.
FTL's downsides are mostly a matter of taste, and some may consider them good qualities. What happens during the game is a matter of luck, but this adds a level of tension and unpredictability. The graphics aren't flashy simple, but charming and retro. The difficulty is high, but a lot of people like that. There are very few objective downsides to FTL.
FTL's developers have added new content with the free Advanced Edition. The patch adds new weapons, upgrades, ships, as well as a new race and sector. It's only $10 USD on Humble Bundle and prices on Kinguin are even lower. So why are you still here? Get out there and save the galaxy!
The Review
FTL: Faster Than Light
FTL: Faster Than Light is a spaceship simulator with roguelike elements, inspired by sci-fi classics like Star Trek and Battlestar Galactica. As the captain of a Federation cruiser, you must lead your crew through a treacherous galaxy to bring down the Rebels. With simple controls, brutal difficulty, and seriously addictive gameplay, FTL is indie gaming at its best.
PROS
Accessible controls; easy to learn
Wide variety of playstyles
High replayability
Lots of possible events
CONS
Events are random
You will probably die on most playthroughs
FTL: Faster Than Light DEALS
We collect information from many stores for best price available
Best Price
0