Dying Light was developed by Techland (who also did Dead Island), published by Warner Bros. Interactive Entertainment, and released in 2015. The Following is but one of many expansions and bits of DLC for the game. However, what makes it stand out is the size of it, and the fact that it ends the game's main story-line in preparation for Dying Light 2: Stay Human.
You can find my review of the base game here.
The Following was released in 2016, a year after the main game came out, and expands on it in many ways that highly improves it, and actually addresses many of the things that I criticized the base game for; but also still falls flat in some regards.
The story is as follows: Kyle Crane (you) have found out from a dying man that outside of the quarantined city of Harran, there is a rural area also cut off from the rest of the world. What is important about that news is that the people there seemed to have found a way to stop infected people from turning into zombies, without the drug Antizen. Whether it is some kind of natural plant found growing wild out there, or a new synthesized chemical, you and the other infected people in the city need to know about this new medicine and how to get it, because time is running out.
The GRE (Global Relief Effort) has stopped airdropping Antizen into the city, the only thing that was keeping the infected people there (and you) from turning en masse. Without this new drug/cure from the countryside you and everyone else infected will be doomed, so it is up to you to find your way out there, and find it.
In the end, you will have to explore a new and foreign area, deal with a very hostile native people, and ally yourself with a strange local cult that venerates 'the Mother' and worships the sun. You will need to get into their good graces, help the people of these rural regions to gain favor and trust, and eventually become a Faceless, one of the Mother's inner circle. Only then will the truth become known to you.
The story in this expansion is actually really compelling, and the whole new, and extremely large, map really helps to sell the fact that you are out in the middle of nowhere. The map has been made very, very large for one reason, and the main reason as to why this expansion is fantastic: driving.
In The Following, you no longer have the luxury of grappling up towers, hopping from rooftop to rooftop, or running and jumping and sliding through alleys. You have massive amounts of zombie infested farmland, plains, and forests to deal with. There are interesting features that dot the map of course and still allow you to parkour: tunnels, railway lines and train depots, warehouses, granaries, small villages and towns, as well as a massive hydro-electric dam and a fairly large coastal city. But, the map is mainly made up of flat open spaces, tons of roads, and lots of zombies. In order to get around quickly, and without dying to the undead hordes, you will need to drive.
You can upgrade your buggy, just like you can upgrade your character. Two new skill trees have been added to the game. The first is the Driving skill tree, and the second is the Legend skill tree. The first one is fairly obvious, and extremely necessary in this expansion. It allows you to modify your buggy, craft custom parts for it from blueprints, change it's performance, fuel efficiency, the ability to use nitro, a flamethrower, and even a UV light cage that protects you from Volatiles while driving at night. There is so much more to this new driving skill tree, and it is a ton of fun to race at full speed, doing jumps, and smashing zombies into paste with an upgraded ram bar.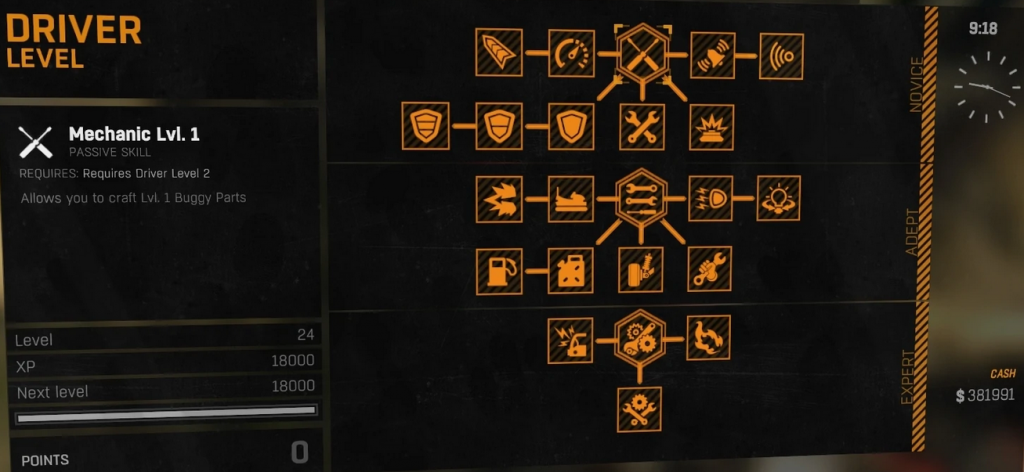 Driving earns you experience, so the faster you go and for longer, the more experience you will get. Zombie ram kills, jumps, completing races, time trails, and more, will all net you experience. Unfortunately The Following does not fix the problem that was present in the base game: experience balance. In this game Driving takes over for Agility, while you continue to use Power and Survivor like normal. This means that Agility will continue to fall behind, and even after completing this expansion, I still hadn't leveled it up completely, whereas I had only two or three levels left in Driving. Experience rewards are also still randomized, which, again, continues to hurt your ability to level up Agility.
The other new skill tree is the Legend skill tree. This one takes experience you earn from skill trees that you had completed (for me it was Survivor and Power) and puts it towards a new series of upgrades for your character that allows them to super specialize how they play in combat. Earning these levels is hard, the experience earned towards it is very low, but with how much experience you get from quests, and from killing zombies, you should have no problem filling this, especially if you are playing with friends and doing competitions with them.
The Legend skill tree, sadly, only allows you to improve your combat abilities. So things like damage with certain kinds of weapons (one handed, unarmed, two handed, guns, etc), to increase your total health, health regeneration, or even how much health you get from healing items. While this is very useful, especially when you pump these skills up extremely high, all it does in the end is create a barrier between you and lower level allies and friends. The problem with different damage being dealt to zombies by different players, that I mentioned in the main review, still hasn't been fixed.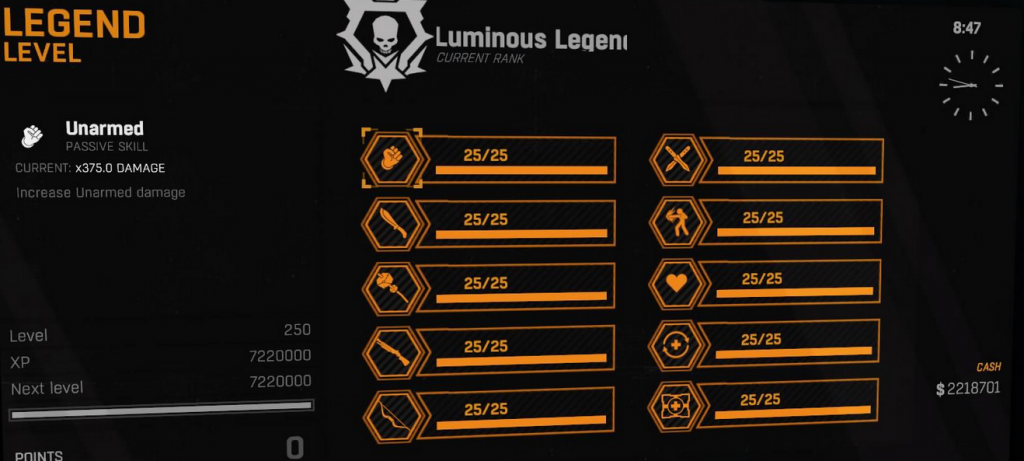 What they did kind of fix however was the problem with game-play slowing down due to lock-picking. The game is even more fast paced now, as you are driving at extreme speed through the map. Lock-picking really slowed the game down, literally to a halt, but ironically, didn't pause the game. So while you are trying to open up a crate of loot, enemies can still come up behind you and attack you. The Following attempts to solve this by creating new kinds of crates for you to find loot in: military stockpile crates, and hacking crates.
With these new ones, all you need to do is flash a key-card, or push a few buttons on a device and they open. The problem is that they are few and far between, and you only get the means to open them about halfway through the main story-line, and after an extremely long side quest, respectively. There are still tons of regular lock-picking boxes all around that you need to rely on as your main source of new weapons, and in order to get your first car parts and blueprints to upgrade those parts, you need to lock-pick new Automotive crates.
So, while Techland was onto something, and very nearly fixed the problem with the game's pacing, they ultimately fell short with it, as they did with fixing Agility and experience, and the one persistent multiplayer bug that could sometimes make playing with friends very, very frustrating.
Another problem also arises with the end of this expansion/DLC: the story. While it is good that the player is given a conclusion with the story for the game being brought to a close, it unfortunately does not close.. well. If you have seen any promotional videos for Dying Light 2: Stay Human, or read anything about it, you will know that you will not be playing as Kyle Crane, and that is all I will give you in terms of spoilers for how the story of The Following, and ultimately Dying Light 1, ends.
Overall the new driving mechanics are fantastic, the vehicles control well with upgraded parts and are a ton of fun to drive. The new bevy of side quests, as well as the new main quest, are all a ton of fun, and keep you busy driving and fighting out in the zombie apocalypse. Legend levels keep you going, and help you to feel like you are not wasting any experience even after you finish off some of the skill trees, and I really appreciate that. Being able to work towards new milestones to make your character even more powerful in other ways is very gratifying. But again, the pacing of the game is still slightly wonky, and the other problems I mentioned are still around.
However, I would ultimately give The Following a very high recommendation. I had a blast playing it, and there are all kinds of new secrets, special weapons, and blueprints to find on a new, very large, very well made and interesting map, that will give you tons more hours in this fantastic game.
I am really looking forward to Dying Light 2: Stay Human, and I hope that one day I will get to review it. If that is the case, you will be able to find it here.
The Review
Dying Light: The Following
Dying Light: The Following is a great bit of DLC that is really more of an expansion of the game. New skill trees, driving mechanics, a third big map, and tons of interesting quests have been added for you to continue annihilating your way through the zombie apocalypse.
PROS
New chests that you can quickly open without lockpicking and breaking the pace of the game.
New weapons, weapon mods, and weapon blueprints to further cutomize your zombie killing.
Two new skill trees, Driving and Legend. The latter expands the late game and combat even further.
Driving around the new map is a blast, and upgrading/customizing your buggy is a ton of fun.
The new map is very, very big, with tons of new and interesting features for you to drive around to and explore.
New 'freak' enemies (like mini-bosses) for you to challenge and defeat.
New types of firearms, and a new class of firearms (the SMG) is now present in the game.
CONS
Lock-picking is still present, and still slows down the game to a crawl.
Multiplayer bugs are still present.
Agility experience gain is still too low, and you will finish leveling up everything but Legend before Agility.
The ending of the game and the legend that is Kyle Crane is a bit, meh.
Review Breakdown
Adding driving around to killing zombies only makes the game more fun. A 100% recommended expansion.

0