Pictured above: Warner Bros. Entertainment sucking some of the life from the gaming industry.
If you have ever played Middle Earth: Shadow of Mordor or Middle Earth: Shadow of War, you will notice that they have an excellent mechanic that the game functions around, the Nemesis System. In this system if a regular orc grunt kills you, they can be promoted up the ranks and gain special abilities, turning them essentially into little mini-bosses. If they kill you again, it only makes them more powerful, and this can continue. This creates enemies throughout the game that you have a personal vendetta against, and compels you to get revenge.
There is obviously a lot more to this system (a lot more) that cannot all be explained here; you will have to go and play the games and experience it for yourself. Regardless, this system made the games famous and fun, and yet they have not spread throughout the gaming industry. Well, there is a reason for that. Warner Bros. Entertainment, the rights holders of the Lord of The Rings franchise, and the main backers and publishers behind the two aforementioned games (made by Monolith) have patented the system.
The patent, seen here on Patents.Justia.com, details the Nemesis System, and gives Warner Bros. the sole rights to use it. Other game studios and publishers are more than likely a little bit apprehensive about this. If they implement even a similar system into their games there is a good chance they will be faced with legal action. So unless Warner Bros. allows other developers to use the system, it is pretty much assured that games will not see a system as good as the one that was developed for Shadow of Mordor in other games and franchises, ever.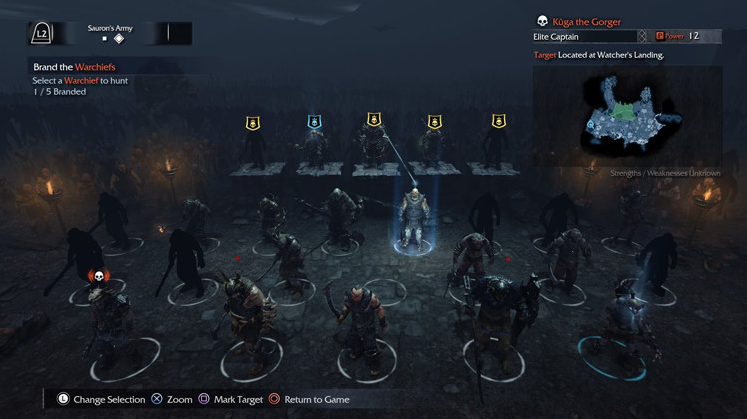 This is a real shame, as over the past three or four decades games have always been in a state of evolution. A game is created, the things in it are great and innovative, a new game uses and improves on those systems, and the cycle continues. This is why we have the great games that we have today. Obviously, not everything is copied, and things aren't copied too closely. Setting, story, characters, etc cannot be included in this cycle, but the mechanics in the games themselves can.
A great example of this is the Command and Conquer game series, the StarCraft and Warcraft game series, and the Age of Empires game series. For nearly ten years they played a sort of leap-frog game with each other, looking at what the others did and using it and improving it, trying to beat the others and leaping over them to take the lead. Imagine if something in those games was patented, like gathering resources, there wouldn't be any other real time strategy games out there. By patenting the Nemesis System Warner Bros. Entertainment has essentially killed a new route that games could go down and evolve. It is kind of sad to think about.