Google Street View offers a first person, close up of the big wide world that is reality. You are able to see property, businesses, parks and custom 3d photos that can reveal some pretty bizarre, intimate and personal experiences. Depending on when the google vehicle drove by and took pictures on it's full 360 degree camera, it may or may not have been a good or bad for you.
Since we live in a digital age it's actually fairly straight forward and simple to get your property, house ,business or part of it blurred to hide the contents. You can ask Google to permanently blur your house out — leaving only a smeared suggestion of a building in its place.
Google Street View, launched in 2007, as a new feature to google maps provides a street-level view of many cities and towns around the world. Captured by roving vehicles and individual photographers equipped with 360 degree camera's on their backs ( sounds heavy! ).
This service has proved to be rather controversial due to the privacy concerns involved. It can be used for a variety of purposes, the main purpose, navigation! Attempting to figure out where you are or where you are going and looking at the surroundings so you have a comfortable, practical idea of what to expect when you go there via familiar sights. Essentially allowing you to travel around the world from a human like perspective ( First person ).
Other practical purposes may be real estate, delivery businesses trying to find their customers property, police and security agencies and more but it does have a sinister side, that is, thieves, stalkers and other criminals can utilise it to plan their illegal endeavours, uh-oh! On top of that it may capture pictures of your vehicles, assets, personal pictures of yourself, children, it opens up a whole ball-park of privacy, moral and ethical issues. Google's A.I. long since then has implemented automatic blurring of peoples faces and vehicle number plates but it's not full proof.
Here's what you do:
1. Go to Google Maps and enter your home address
2. Enter into Street View mode by dragging the small yellow human-shaped icon, found in the bottom-right corner of the screen, onto the map in front of your house
3. With your house in view, click "Report a problem" in the bottom-right corner of the screen
4. Center the red box on your home, and select "My home" in the "Request blurring" field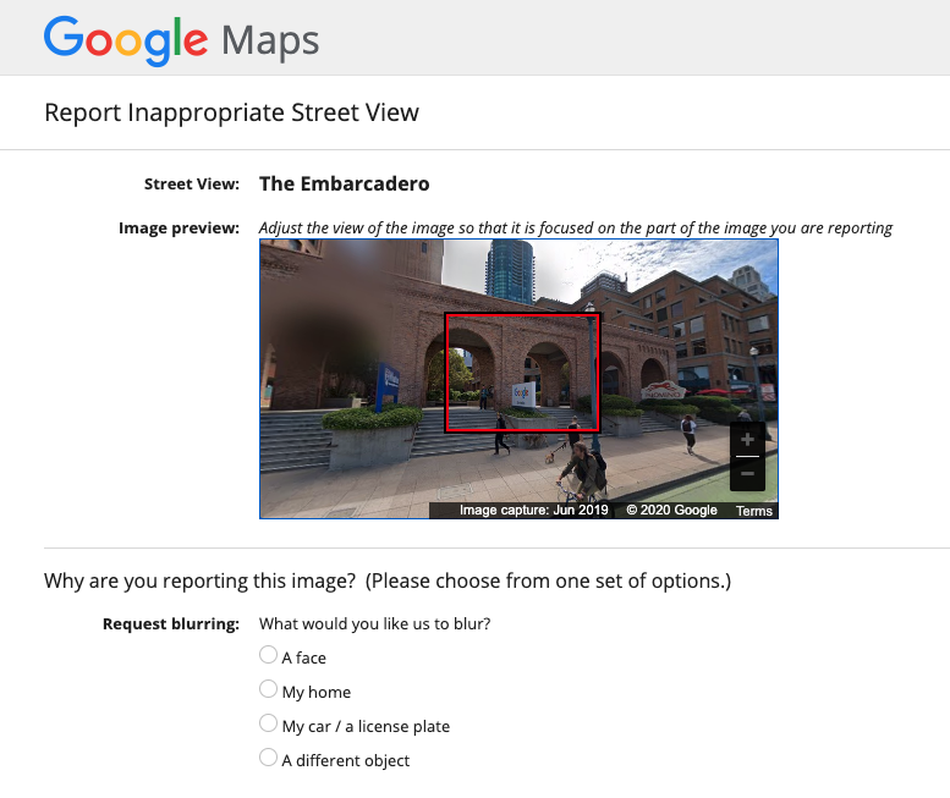 5. Write in the provided field why you want the image blurred ( for example, you may be concerned about safety issues )
6. Enter in your email address ( We recommend a burner ), and click "Submit"
Most importantly, be sure it's what you want. Google warns you that once it has blurred your house on Street View "it is permanent." and if you think about it, unless other people in your area have done the say, it may put a red flag on that location and attract some unwanted attention from other observers, be it good or bad. But hey, you know what your property looks like and can always go outside to take a look!
Don't forget, though, you live in the place. If you ever need to be reminded of what it looks like, presumably you can go outside and see for yourself.