The ARK: Survival Evolved easter event has come around once more. Beginning Thursday March 29th, survivors will be able to experience the "Eggcellent Adventure" Event, private servers can enable this by adding the option:
-ActiveEvent=Easter
At the end of their server commandline.
From the official ARK posting:
During Eggcellent Adventure, survivors will be able to collect special "Bunny Eggs" across the ARK from wild Bunny Dodo's and Bunny Oviraptor's. These Bunny Eggs can paint or used in special Cooking Pot recipes to craft holiday-themed items such as Bunny Ears, a Bunny Costume for the Procoptodon, are two brand new cosmetics: the Knitted Chick Hat and Egg Shell Hat for both survivor and dino!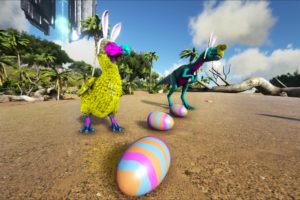 Here are the event notes for changes:
Wild creatures roaming the ARKs will also find themselves feeling eggcellent, sporting bright colours of Green, Magenta, Yellow, and Blue.
Wild Dodos are replaced by Bunny Dodos  – with ears, taming disabled, and drop 50% consumable dodo eggs and 50% Bunny eggs
Wild Oviraptors are replaced by Bunny Oviraptors – with ears, taming disabled, and drop 50% consumable Oviraptor eggs and 50% Bunny Eggs
Bunny Eggs can be placed on the ground and painted
Bunny Eggs will expire after approximately two weeks from inventories, and placed eggs will immediately decay once the event is turned off.
Run your private server with '-ActiveEvent=Easter' to turn on the event
Running the same server without -ActiveEvent=Easter will delete all placed egg structures
Players can use Steam > ARK > Properties > General > Set Launch Options and paste in -ActiveEvent=Easter to experience the event in single player/non-dedicate/player dedicated worlds. You must enable the event yourself in these modes.
Event is not available in Primitive Plus.