Nvidia as of this week has listed their website as "Out Of Stock" for GTX 10 series GPUs, causing many to question the industry titan's rationale behind such a impromptu and abrupt decision regarding their sales of what many consider to be one of the most successful lines of consumer grade graphics cards in recent history, far superior to AMD's data crunching furnace the Vega series of graphics cards in the general use, content creation, thermal performance, and gaming performance by landslides in a price/performance ratio based off of MSRP prices for the cards as opposed to the topsy turvy merry-go-round that the GPU market has become.
Nvidia has not given an official statement for the reasoning behind this, but the writing is on the wall, GPU prices are about to rise as supply decreases for new graphics cards until the release of new cards from Nvidia and their board partners.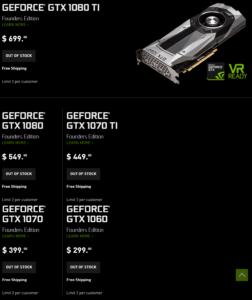 So, the question is, what happens next for the graphics card industry?