Full disclaimer: I am a huge fan of 11 Bit Studios, the makers of Frostpunk and This War of Mine, simply because of how they run their company. Not only did they donate the proceeds from a This War of Mine DLC to the Warchild charity, I respect their stance on piracy and DRM as well. They pretty much said regarding pirates "If you can't afford our games, we don't mind people pirating it. Just tell people about it to promote us and buy it when you can." On top of that, they released This War of Mine and Frostpunk without any DRM through the Humble Store and GOG.com, respectively. GOG.com also offers their Fair Price Package, in which they will reimburse you the difference of game price between different currencies. You can read about it here. There's a bunch of other stuff they do well, but this article isn't the place for that. All of that considered, I may be just a bit biased towards a company that seriously respects gamers.
When I first heard that the creators of This War of Mine, 11 Bit Studios, were coming out with a city-sim survival game that promised to be just as intense and punishing as the last one, I was ecstatic. Even though This War of Mine was a bit lacking in replay value, it was still a great game. Hopefully, lightning would strike twice.
Frostpunk takes place in 1886 in an alternate steampunk history. A mysterious cataclysm has plunged the world into a new ice age. You are the leader of a handful of survivors in searching of a generator that can protect them from the cold. You will have to build a functioning settlement that can provide for everyone's needs, while making tough decisions that will affect their future. Everything rests on you as the leader, and you will have to live with the consequences of your actions.
Frostpunk's gameplay is enjoyable, intense, and challenging. A multitude of hazards and challenges will assault your city, and sometimes a good day means just scraping by. I recommend going into it without reading any guides or strategies and just feeling your way through. It adds to the intensity and immersion a great deal. I felt like that is how the designers meant for it to be played.
The main downside to Frostpunk is its lack of flexibility. Each playthrough is pretty much the same. Once you figure out the formula for success, the game loses some of its challenge. There are currently two additional scenarios that can be unlocked once the main story has been finished, so there is some replay value. 11 Bit Studios also has plans to release free content updates over time. What the game really lacks, and what I think would improve it considerably, is a sandbox mode (they are considering it, though). As it is, you are railroaded into a specific scenario where major events are scripted. The only major difference in the main story is choosing between the Order and Discipline path or the Faith and Spirituality path to give your citizens purpose.
Strength Through Purity, Purity Through Faith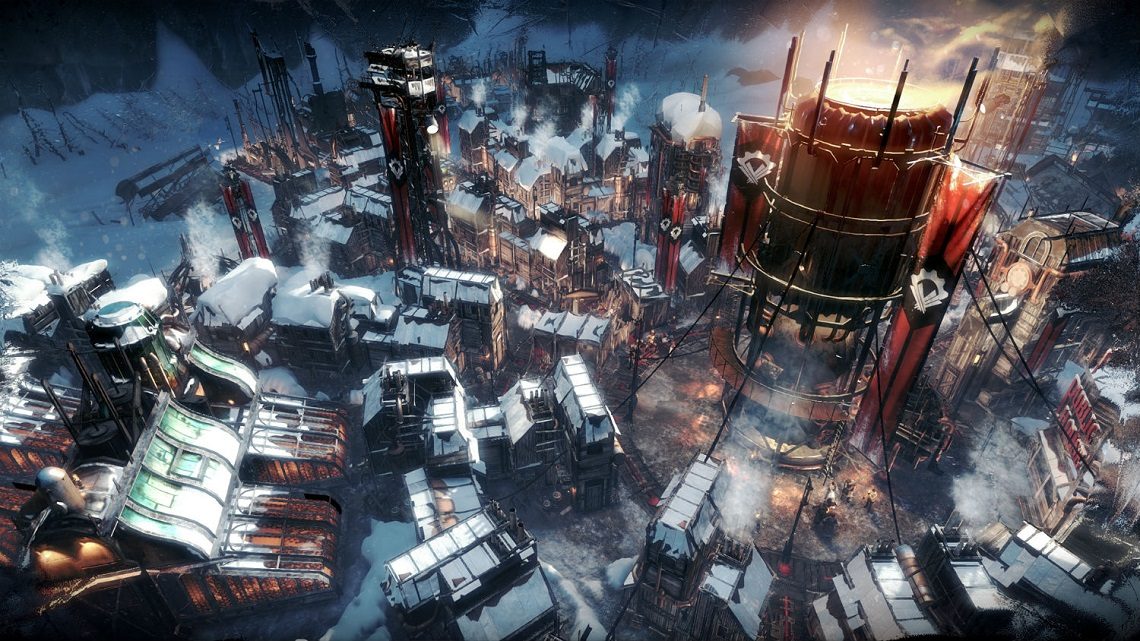 The Order path deals in a secular approach to a functioning society by promising safety and stability. If you stay in the lower tiers of it, it will remain a relatively free government. However, the further along the tech tree you go, the more totalitarian your city will become. Nazi-esque banners will decorate the city, the town crier will call you "glorious leader", and armed guards will replace the neighborhood watch. The choice to make is how far you will go with it. The lowest tiers will keep your city democratic, with a neighborhood watch, public meetings, and foremen at workplaces. Keep going further, and you will step into authoritarianism, with a propaganda center, citizens spying on each other, and pledges of loyalty. The final tier, New Order, will turn your city into a fully fascist government. The more you consolidate your authority, the easier it will be to manage your city. However, you may end up sacrificing the very values that make survival meaningful.
Alternatively, you can create a theocratic society via the Faith and Spirituality path. It is similar to the Order path in which it starts out benevolent, but can easily become tyrannical. Instead of demanding people's obedience, you inspire (or brainwash) them through faith. You have the option of providing things like care for the sick, food for the hungry, and guidance for the lost at first. If you go further, you will establish public penance and an inquisition. With the New Faith option, you can proclaim yourself the voice of God on Earth.
The difference between the two paths is more a matter of flavor rather than gameplay. It makes the choice feel less urgent. I enjoyed playing both, but everything proceeds in pretty much the same way regardless of what you do. Staying within the first few choices of the tech trees will ensure your society is just and benevolent. However, you will always be tempted to take things further to keep your people in line.
It looks like many of the game's issues will be remedied in the future. Frostpunk will eventually have mod support, which should increase replay value. The developers will be adding new scenarios and content updates for free. More substantial paid DLC is likely, too. I have a hard time recommending the game in its current state simply because it is too constrictive. However, even though you don't get much, what you do get is quite good. It's a unique idea, has good writing, and puts you in the position of a leader who will have to make decisions with no easy answers. In the world of Frostpunk, you don't have the luxury of complex morals and right-or-wrong choices. Your only goal is to give the last of humanity another day on Earth…and a tiny shred of hope for a future that may or may never come.
The Review
Frostpunk
Frostpunk is a steampunk city-sim that forces you to make tough decisions between morality and survival. The gameplay is enjoyable, but falls short when it comes to replay value.
PROS
Tough moral decisions
Balanced difficulty
Enjoyable gameplay
CONS
Poor replay value
Little difference between playthroughs