Full disclosure: As a fan of the original book series, I have to say that I am a little bit biased. Take this review with that grain of salt. (Also there will be names and terms from the game and the wider lore used, I will try to explain some things, but just roll with it.)
I love Warhammer 40k, everything about it. That is why I still wanted to play this game after seeing how many terrible games have been coming out for the property. I suppose I had hope, when I really shouldn't in this Grimdark universe, where no one can make good 40k game anymore.
Developed and published by Pixel Hero Games, Eisenhorn: Xenos is based off of the first Eisenhorn novel, Xenos by Dan Abnett, and really just should have been a movie. I will say right off the start, that this game is absolutely terrible.
The camera moves badly, at all times, not just for combat. In combat it wants to try to lock onto the closest enemy, even when that will screw you over royally. Then there is the problem that the camera is zoomed in way, way too close, further making not just combat but the whole game impossible to enjoy. The movement of your character, Gregor, is terrible, especially when they force you to walk in the worst places like on your ship, wasting tons of your time.
There is no way to turn off the terrible motion blur, and I found myself getting somewhat sick as I spun Gregor around to try and fight. Combat is boring, a chain hit system just using swords, as ranged weapons are useless. You get a total of six shots, and the enemies all roll and dodge every, single, one. I never hit an enemy once in the entire time I played.
Also, why is everyone using power swords? Why does Gregor use his power sword (when it is turned on) to pry open doors? Don't the people who made this game know how extremely rare they are, or how they work? He would melt the door before it was ever pried open.
Did they even read the book this is based on?
The sound effects used are from websites where you can get them for free, or from other games more a decade old. When I heard them in this game I was directly taken out of the atmosphere, and that is really the only thing this game has going for it, the atmosphere. Staying on sound, the voice acting is awful. You do have a range in this game, from absolutely amazing (Eisenhorn) to sadly uninspired (almost every other speaking role) to absolutely terrible (Lores, Alizebeth, Fischig).
As you go through the game it really just feels like people are speaking the lines from the book, completely not caring about the job they are doing, or the context in which they are supposed to be saying it in.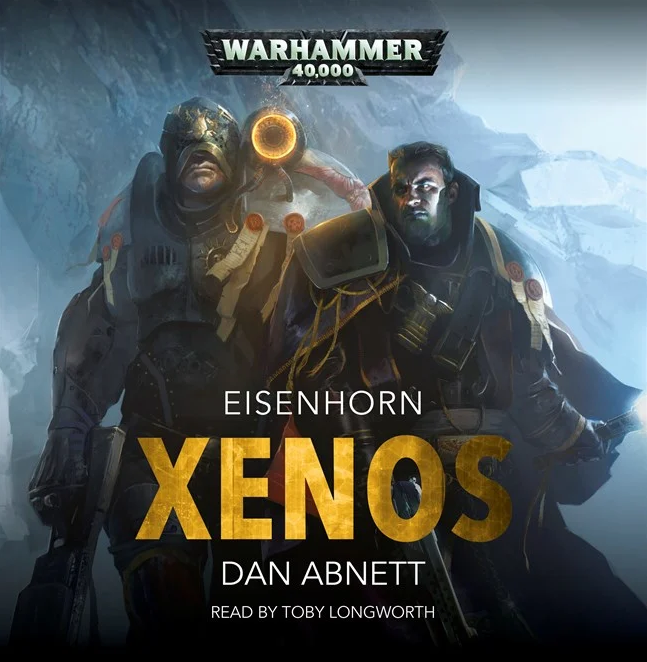 Hoping that the rest of the game play will make up for the combat? Then you are sorely mistaken. What they have instead of a game is annoying quick time events, platforming and avoiding environmental hazards (steam, lasers, jets of flame, etc), a terribly implemented stealth system, and uninspired hacking mini-games.
Did I mention that you hack devices with your auspex (radar)? The only time they actually use the auspex kind of correctly is when you use it to try to see where you need to go, or who to talk to, (and this is unintentional, I had to do it) because the game will hide ladders, vents, characters, essentially everything, in dark corners or areas where you would least expect them. This only breeds frustration and contempt at how bad the level design in this game is.
It seems like they wanted Eisenhorn: Xenos to be something like a movie/game hybrid, and like I mentioned at the start just making it into a movie would have been way better. But then you actually get to the cut scenes in this game, and marvel at how bad they are for a game that focuses so much on them. The animations are terrible, the characters jerk and jank around, and the cinematography is just awful. The lip syncing is exactly what you would expect from people who don't care at all, and the models and textures sometimes don't even appear.
When I finally confronted Oberon (one of the main bad guys) I was confused, because Gregor kept looking down at an empty patch of cobblestones. This happened on and off throughout the game, but it was at that point, when he never showed up throughout the whole scene, that I finally went a little crazy. Add to that the fact that the flames and other effects look like they were borrowed from Turok 2 or from another game from that era; they honestly look twenty plus years old. This is all on high graphics mind you, with the best settings on, and with a top of the line computer.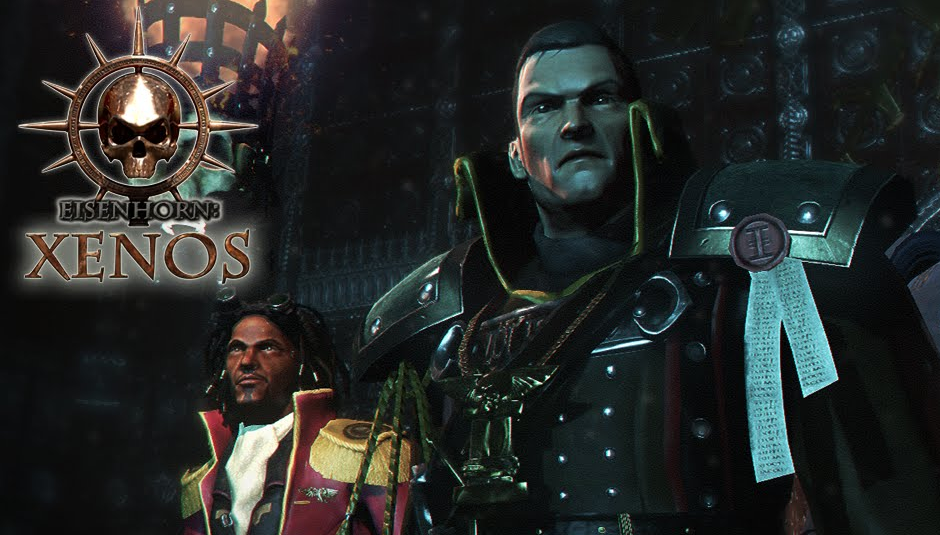 Then there are other areas where they were just plain lazy. For example, you almost always start each mission (and many cut scenes) on a landing pad in a new area. However, you never see the ship dropping you off or picking you up. You also never see explosions, like when a main plot room on the planet detonated. It was a fade to black with an explosion sound. I could go on with these examples, but I don't understand why these sorts of things were done. It makes them seem cheap and lazy.
The thing is though, that they do pay close attention to a lot of things. They make the world come alive, and the backgrounds and atmosphere are great. The settings are amazing, and everything looks cool and is in the great Warhammer 40k style that I love. They even have paintings and portraits in houses and manors that utilize images that Games Workshop uses for fluff in their table-top rule books.
Here they became lazy again, because now you have people like Maxilla (a good guy) with pictures of daemons and traitors up on his walls, where I would assume hanging that sort of material would get you a death sentence, or at least an interrogation and a flogging as to why heretical materials are being used for decoration.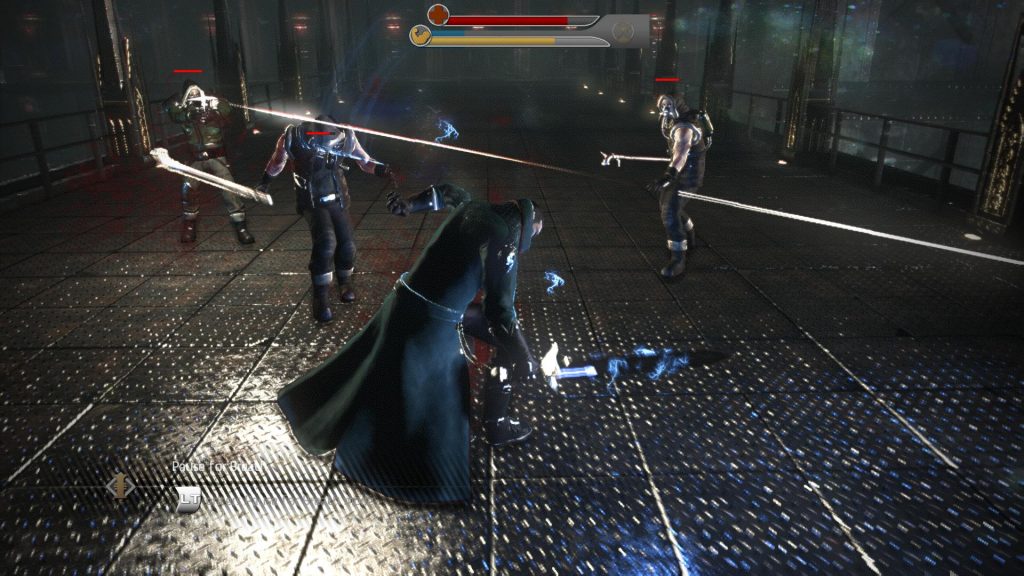 They ruin their perfectly good settings however by changing them to better suit the terrible game play. Why would an Adeptus Mechanicus hub, where 12,000 of the planet's richest most noble people go to cryo-sleep through the winter, have floors that are falling apart, or corridors that turn into platforms? No reason other than to support the crappy platforming, so that you don't get too bored chasing a terribly voiced and accented Eyeclone (another bad guy) down an endless number of identical hallways.
Another thing that is boring? The music. It was so bland and uninspired that I didn't even hear it until I consciously asked myself where it was and started to pick it up. Other Warhammer 40k games have amazing soundtracks, or at least music that stands out a little, but this stuff blends in so much you might as well not even be listening to it, and play the track from some other game.
The character customization is a laugh, where you collect coins (seriously, the currency is just called 'coins' rather than thrones or gelt, or even just credits), to slightly upgrade your melee weapon, your ranged weapon, or a trinket that mildly boosts your other stats. You can do the same for an ally who will fight alongside you in combat, but the AI is terrible, do NOT rely on them at all.
Seriously, all of the AI acts retarded. I don't mean to be offensive, but that is literally the impression I got from the AI, and not just your allies. The enemy also has no sense of tactics, and just charge you and try to kill you with sheer weight of numbers while the ranged guys in the back pick you off. Your ally will do the same, dying nearly instantly.
I finally decided to stop playing when I got stuck in a hallway between two doors that wouldn't let me out no matter what I did, with nothing to hack to let me out. I looked up game play footage and the door is supposed to just open. Mine glitched out, so I called it a day.

If you think this game sounds fun, or interesting, or just want to see how bad it is, that is impossible. Eisenhorn: Xenos was so terrible, so despised, that Pixel Hero Games removed it from the Steam store. Honestly, do yourself a favor and just go read the books.
The Review
Eisenhorn: Xenos
PROS
Great atmosphere.
Diverse and beautiful settings/locations.
Amazing story (by Dan Abnett, the author).
CONS
Combat is terrible, gets stale and boring, ranged combat is useless.
Camera/character controls are terrible.
Music is bland and boring.
Motion blur cannot be turned off.
Settings in general can barely be changed.
Even on the highest quality level, models and textures look terrible, and have a chance of just disappearing.
Cutscenes and the animations are badly done, and lip syncing is horrific.
The voice acting for everyone other than the protagonist is just sad, and turns great characters into bricks.
Sound effects are from freebie website collections and old games that won't sue.
Regular gameplay is annoying or gimmick minigames/quicktime events.
Level design is terrible, navigation is awful.
Boring character customization.
Review Breakdown
This game gets a 1/10, one of the worst games I have ever played.

0