While many people may be more familiar with the Mad Max movie series, what some may not know is that there was a game released in 2015 to go along with the release of the fourth movie, Fury Road. This game, simply titled Mad Max (2015), is, surprisingly, not your average movie-game. It also, oddly, has almost nothing to do with Fury Road.
There are plenty of games out there released just before or just after the movies they are based on, to try and generate hype for the movie, or to try and ride on the movie's success. Honestly, the majority of these games are not very good, at all. Little to no artistic vision is allowed for these games, as they need to meet very specific release dates. Any delay can be catastrophic.
Mad Max is not one of these movie-games. I mean, yes, it is a movie-game, but it is not a terrible one. Quite the opposite in fact. While it was released to coincide with the movie, as mentioned above, all it really borrows is names and some places. It is a good, solid game, with three major strong points that really help to make it enjoyable. Also, just to clarify before you read any further, it is an open world vehicular combat game, with some good on-foot action.
The first thing Mad Max has going for it is a very, very large map to enjoy, with many different features and environments. This is saying something, considering it is set in a barren wasteland. The sheer scale of the map is immense, which helps because this is a driving game where with the right car and the right upgrades, you can go fast. Even with this immense speed, the map is large enough and open enough for it to take you some time to cross it all.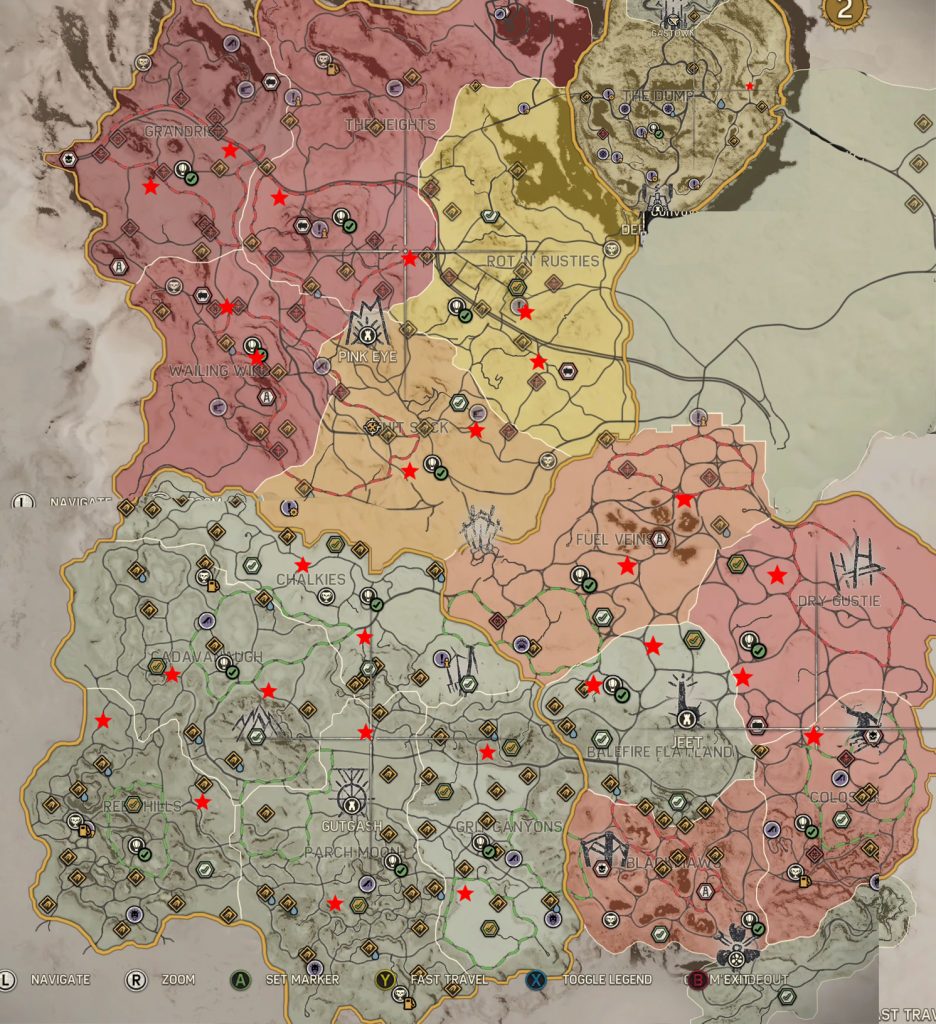 What is amazing still about the map are the variety of environments and "biomes" in the game. From "The Great White" a salt flat made up of the evaporated Pacific Ocean filled with coral outcrops, ship skeletons, and lighthouse ruins, to flat grey wastelands punctuated with the odd cliff or valley, to red rocky deserts filled with immense mesas, to massive canyons and gorges filled with green flames and caustic gas, to entire regions covered in oil and skeletons from the refineries survivors of the apocalypse have set up (and much, much more). It is a gorgeous game despite it's age, and this huge map filled with so many different places is great.
The second major strong point of the game is the amount of customization and upgrades that both your character, and your car, can go through. Max has both a leveling system (which you then use scrap from enemy vehicles and bases to buy upgrades for), and a token system (which allows you to buy additional upgrades). All of these are unlocked through deeds and actions in the wasteland, which gives it a nice twist, rather than just using a generic experience leveling system. If you are looking for a game where just killing an enemy will level you up, look elsewhere. You need to help people, destroy bases, and make a name for yourself through different heroic deeds.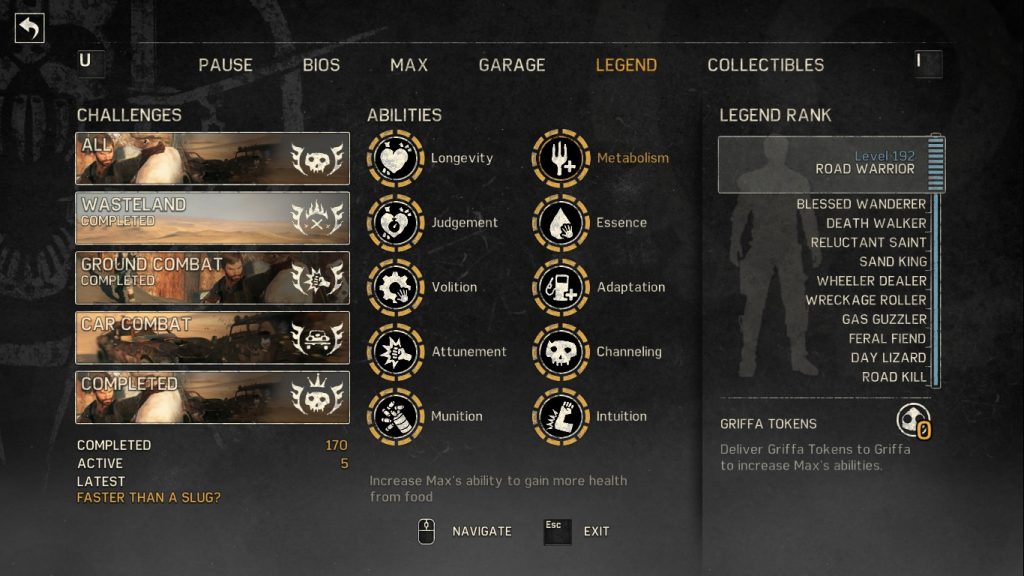 One of the main draws is obviously the vehicle combat. Your car can also be upgraded with scrap, and customized in many different ways, but only when you clear large swathes of the map of enemies, and bring the threat rating down for the different territories. Different factions of the War Boys, when destroyed, will give you different parts and schematics, and free up other areas of the tech tree. The more cars you blow up, and bases you take down, the stronger you get. The number of upgrades you can get for your vehicle is gigantic, and it helps you to create a mobile killing machine that can be completely changed on a whim to do different things. From exploding close range harpoons, to long range sniper rifles, and much more, you decide how you want to fight.
Finally, the third thing going for this game is enjoyable driving and combat mechanics. The speeds you can be going at are ridiculous, so to help you destroy your enemies a time slowing effect is activated when you use any of your weapons. Staying on the weapon and watching in slow motion as you blow up someones head with your shotgun, ram their car out of existence, or detonate them with explosives is extremely gratifying, and allows you to really enjoy your vehicular destruction. The ground combat is also enjoyable, but a little bit less so, made up of light and heavy attacks, counters, and melee weapons that only have so many uses. I would say that this ground combat is pretty solid when you get into the groove of it, however; it starts to get annoying when enemies go behind you so that you can no longer see the parry/counter symbols above their heads, and they get cheap shots in.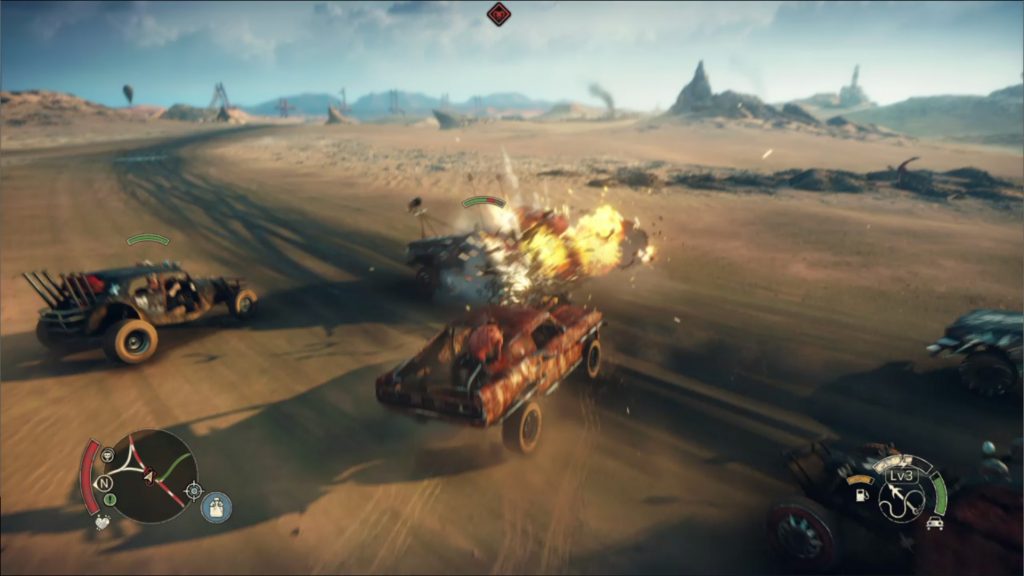 You can expect this game to last you 20 hours by the time you complete it, but if you want to clear the map and find all of the collectables, you can double or even triple your hours played. After that amount of time however the game can become a bit tiresome, as the missions, bases, scavenging sites, etc, all starting to blend together. It can get a bit boring, but at 50 hours you can say that about almost any game. To be honest, a little bit more variety could have been added in here to keep the game enjoyable well past this point, but it is still decent. In the end it is all solid game play, so if you don't mind a bit of a grind even after a long time these things still remain somewhat enjoyable.
Another couple of notable downsides to this game are the fact that you cannot jump, and that you cannot save. The game relies on auto-saves, which in my opinion, is awful. No game should rely on auto-saving only anymore, unless it is a rogue-like, but then the point of the game has changed. This is a vast open world game. If you want to save and exit where you are, you should be able to. You shouldn't have to go back to a base, or find a way to trigger the auto-save like entering a brand new area, or triggering a story mission. Having to drive all the way back to friendly territory to save and exit is draining.
The only reason I bring up jumping is the fact that I keep getting stuck. It is actually very easy to get stuck in this game, as it is hard to tell where they want you to explore for collectables, and where they never intended for you to go. If you get stuck you will have to exit your game, load an auto-save, and pray that it was somewhat recent. All because Max can't get himself up and out of a pit no taller than his shin.
In the end, Mad Max (2015) is a solid game with fun combat, a massive world filled with weird and wild places to explore, and a leveling system (for both Max and your vehicle) that keeps you coming back to the wasteland.
The Review
Mad Max
A solid game that, if you don't mind a little repetition and collectable hunting, should give you a dozen hours of good fun.
PROS
Great vehicle controls and combat.
Solid ground-based combat.
A massive open world filled with all kinds of interesting places to explore.
A decent storyline with good characters that keeps you interested.
A leveling system that isn't based on the generic kills for experience way seen in many games.
Sound effects are fantstic, with the roar of car engines and the booms of explosives and gunshots particularly enjoyable.
Around 20 hours of gameplay, with 40+ if you want to free the whole map and collect everything out there.
CONS
Relies on an outdated auto-save system that really wastes your time.
A lack of a strong soundtrack, despite the movie tie-in being especially well known for it's music.
You can't bring melee weapons with you, and enemies often circle around you so that they are hiding behind your screen, obscuring them.
Max can get stuck or glitch out when on foot, forcing you to quit the game to escape.
Review Breakdown
In the end this game gets a 7 out of 10.

0