Having been in Early Access for some time, Slay the Spire hasn't gone unnoticed in any small measure, but has finally released its 3rd playable class/hero, the Defect. Introducing a new, definitely unique mechanic, The Defect is a defective construct cast out from the Spire with a cracked, imperfect corethat has led to it to discover sentience in its own mind.
Personally, I'd been wondering how they'd round out the lineup and, so far, the Defect seems to be a very fitting addition to the motley of playable characters in Slay the Spire.
As a small addition for those who're unaware, Slay the Spire is a rogue-like (vaguely) card fighter where you select a character and slowly customize their deck as you fight your way up the Spire, adding and removing cards to get them better suited to the challenges they'll face.
What we'll be focusing on, as we look at the new content, is just how the Defect works.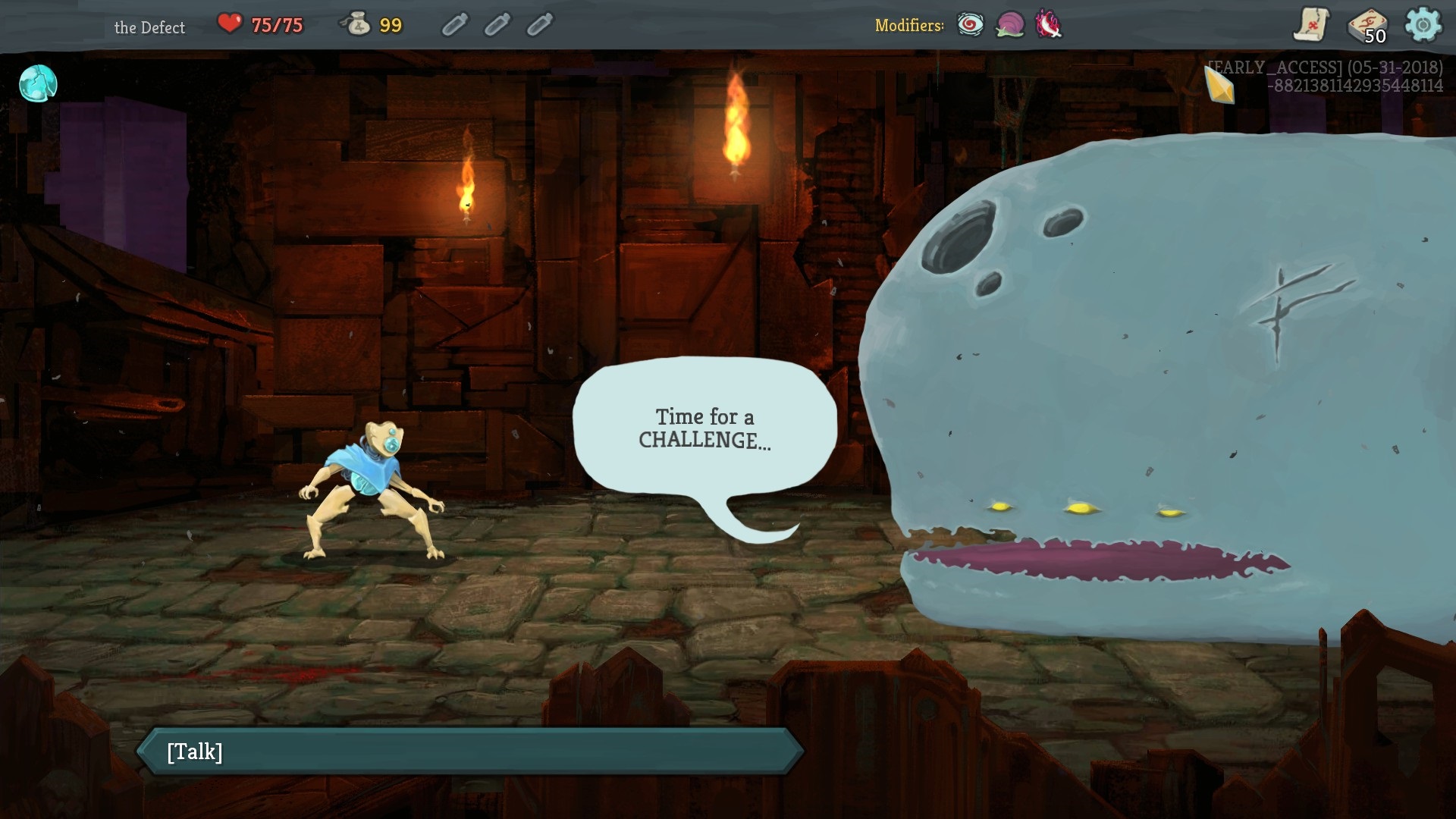 Magical Orbs and How to Find Use Them
The Defect's game mechanics revolve around channeling (holding) a queue of orbs around the hero, each of which provide their own set of benefits. You start with 3, by default, by cards can increase your stockpile for the duration of the fight, allowing the effects of numerous orbs to crash down on foes.
Lightning orbs passively deal damage, Frost orbs passively provide armor, the illustrious and elusive Plasma orb provides an extra 1 energy per turn and the Dark Orb slowly seethes with rage as it festers into something great and powerful.
All orbs can be Evoked, or pushed out of the Queue as new ones are added, and can be forcibly ejected by the action of another card. Upon doing so, Lightning orbs bolt out with double their damage, frost orbs with twice the armor, Plasma orbs giving an energy injection of 2 and the Dark orb culminating into an angry blast against the lowest-HP'd enemy on the screen at the time, making it a time-bomb and a boss-slayer like no other.
With the new, unique, Focus score (Much like Dexterity and Strength for the other two), the Defect can dish out incredible damage while also defending and maintaining himself with a storm of orbs and enhancements… just with a matter of taking some time to set them up. Each point of Focus accumulated pumps up your Orb's effect by a nice little +1, and with 3 Lighting Orbs, that's the difference between a passive 9 and a passive 12 damage per turn. ( Or armor. You get the idea.)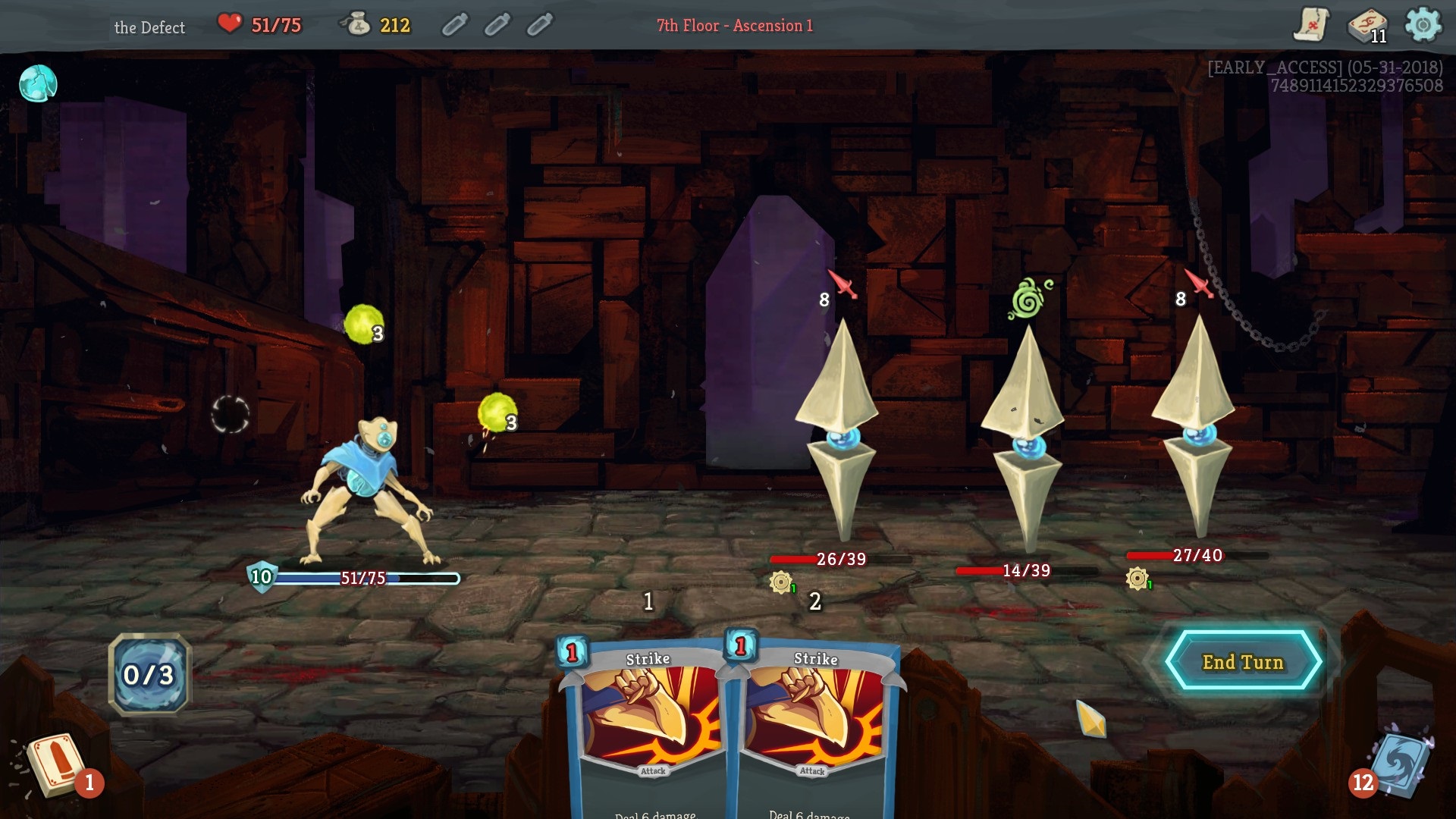 Fortunately, or at least interestingly, Orb effects don't count as attacks and wont trigger abilities like thorns, rage or Curl-Up, but that means they get no effect from Strength, and wont trigger abilities that are disabled by attack damage, either. The Defect primarily revolves around (or at least benefits chiefly from) using a large amount of Power cards and pumping up his Focus to power up his orbs. It can make his deck a little unpredictable, but it's always a fun time watching the buff bar stack higher and higher. He's also got a good number of 0-cost cards and upgrades that allow cards to become zero-costed or draw the zero-cost cards from his deck.
The Defect still struggles on classically pain-in-the-butt enemies, but brings a lot of single-target beat-down to things like the Elite foe Lagavulin and other stubborn enemies who tend to take a hell of a lot of punishment to take down; your biggest fear should be the Gremlin Nob at lower stages, and probably the Chosen at higher ones. Whether you're dealing active damage or passive, the Defect synergies and utilizes any build. He might need to be re-tuned to fall in line with The Ironclad and The Silent but many of The Defect's abilities require him to already have a little built of power 'built up' to benefit. As with all balance changes, only time will tell.
Other New Stuff
The new update also adds a handful of new starting 'bonuses' such as the effect of giving your next 3 fights a simple 1 HP instead of whatever they would've normally had. This can be advantageous if you can finagle it to jump up to an Elite and reap the loot without bumping your head into too many obstacles. A great leap up from the 0th Floor and the Great Space Whale.
One of a small handful of the new artifacts coming in is the potion belt, adding two more slots to your potion bar, if you like that kind of thing. The Nuclear Battery is another relic added, coming a passive benefit that allows The Defect to start the battle with a Plasma orb. Although the game is thoroughly fleshed out, the inclusion of the Battery does make one wonder if there are plans for further Defect-specific or other Character-specific relics beyond the ones they already have.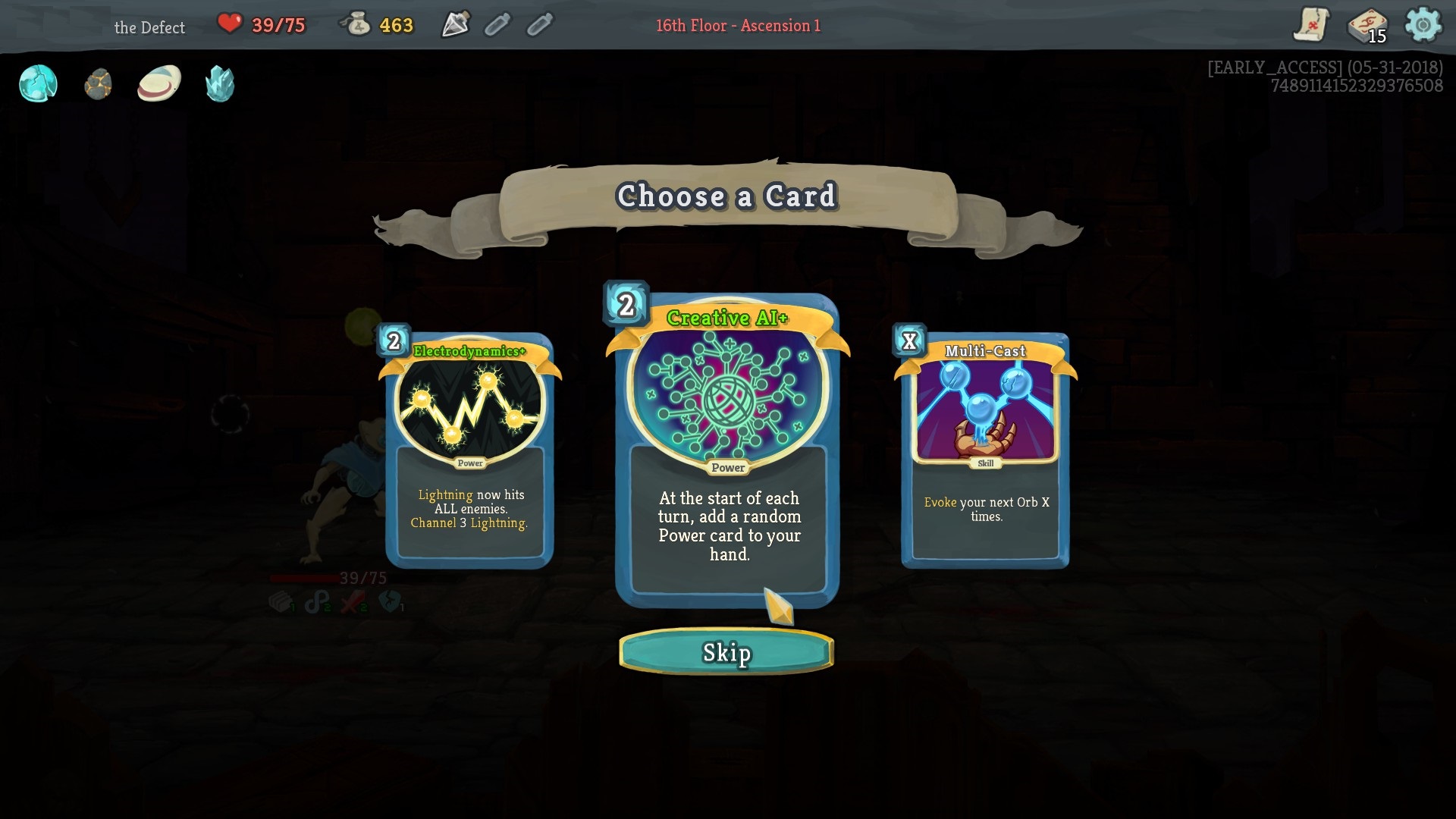 Also like 90% of his non-starter cards are computer puns.