I feel like going around and giving out copies of Stardew Valley to people who look sad. Don't get me wrong, I like games that have a bit of the old ultraviolence, but there's something inexplicably fun and pleasant about Stardew Valley. It's nice and it's happy. I love it not in spite of those qualities, but because of them. This is coming from a guy who often asks his friends if a game or movie is "dark enough" before watching or playing it.
Stardew Valley is an indie farming simulator game developed by Eric Barone (aka ConcernedApe) as a way of practicing game design and to build on the formula that Harvest Moon had created. Barone built the game all by himself, but it soon took off and became insanely popular. In fact, the game got such recognition that Barone was able to meet his idol Yasuhiro Wada, creator of the Harvest Moon series, for a joint interview.
The story is pretty simple. You are a young person with a soul-crushing job working for JojaMart, a faceless megacorporation. You inherit your grandfather's old farm in the idyllic small town of Stardew Valley. Since this is apparently a perfect world, you quit your job at JojaMart to take up farming.
Each day has a certain amount of time that you'll have to use wisely. The main occupations in the game are farming, foraging, mining, fishing, and slaying monsters. You'll get the most out of the game if you do all of them, though. The game uses stats to reflect how good you are at each job.
Farming is the most lucrative and diverse. It is mostly raising crops and tending animals at first, but once you level up your farming skill, a whole slew of other projects will open up. You can tend animals, do beekeeping, brew beer and wine, make preserves and pickles, cook dishes, and use just about everything you get from the soil or your animals to craft more products.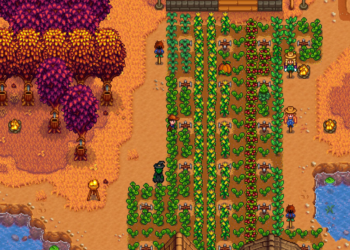 Fishing is a mini-game where you have to keep a bar over a fish to reel it in. Some people love it, others hate it. If you aren't any good at it, it won't spoil the game, but you'll lose out on some events and recipes that require fish. Fortunately, you can put down crab pots to collect shellfish instead. Just load them with bait and check them in the morning.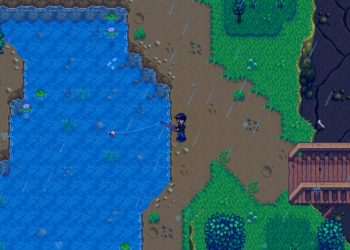 Foraging is anything that you can gather that grows wild. It also encompasses forestry. Wood is one of the most important resources in the game since it's used to build lots of different tools and machines and to upgrade your farm. I highly recommend reserving a plot of land just to grow trees so you have plenty of wood available. You can also tap trees for their sap.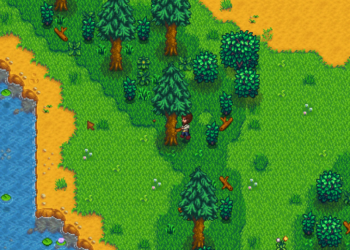 Mining is pretty self-explanatory. You take your pickaxe and break rocks and ore veins for valuable materials. This is essential for upgrading your farming tools and for building certain machines. You can just buy them from the local blacksmith, though. But then you won't get to slay the monsters in the mines.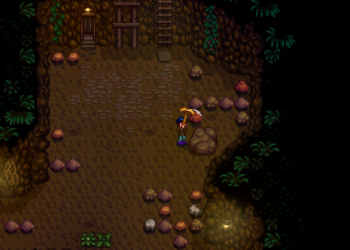 The last profession is delving into the mines to slay monsters. With one or two exceptions, combat is quarantined to two dungeons in the game (and your farm if you choose the Wilderness layout). You can go most of the game without fighting anything if you want. There are some valuable resources that monsters will drop, but they aren't essential. But if you do any serious mining, you'll encounter monsters. There's also a second dungeon which won't open up until later.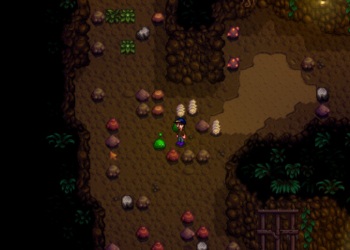 The sheer number of items in Stardew Valley is staggering and almost all of them have a purpose. Many of the minerals and artifacts you acquire from mining can be donated to the local museum, which will give you various rewards. There is also the abandoned community center that has been taken over by forest spirits called Junimo. To unlock more of the game, you'll have to give offerings to the Junimo in the form of the many items you come across. Alternatively, you can purchase a JojaMart membership which will turn the community center into a JojaMart warehouse. From here, all you have to do is pay a hefty fee to unlock new areas of the game. But you won't get the bonuses from completing the Junimo bundles.
Character interaction is another important part of the game. You can make friends with people by giving them gifts. This unlocks various cutscenes as well as the potential to marry one of the 10 eligible bachelors and bachelorettes. Other characters' friendships will unlock certain events, and most will send you the occasional gift or recipe in the mail. Every character likes and hates different gifts, so plan accordingly.
The writing and characterization are quite good in Stardew Valley. Many of the characters, especially the marriage candidates, come off as stock characters at first but once you become friends with them they will reveal a more nuanced side of their personalities. So don't judge on first impressions; there is more depth and layering than meets the eye.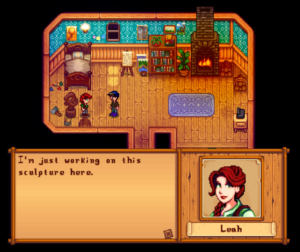 The main downside of Stardew Valley is that once you start making a lot of money, usually by your second year, there is a lot less motivation to keep playing. To keep things interesting, you'll need to get creative. Try focusing on only a few crops. You can grow nothing but wheat and hops and become a microbrewery, or you can plant only flowers and hives and bee an apiarist (see what I did there?). Even though the game can become too easy once you start making lots of money, there is plenty to see in Stardew Valley, and more content will open up throughout your first three years.
Stardew Valley also has mod support. This helps balance out the game considerably by increasing efficiency of the more tedious elements while upping the difficulty in certain areas, mostly by decreasing the amount of money you make. One of the best is the Automate mod, which makes refining base materials infinitely easier. It cuts down on the grind considerably, freeing you up for exploration and relationship building. There are also ways to expand on the gameplay, alter character portaits, and more. I personally prefer a more minimalist approach to modding Stardew Valley by tweaking certain elements, but the beauty of modding is that you can do whatever your heart desires.
I'm honestly not sure what makes Stardew Valley such an enjoyable experience. The simplicity and accessibility mean you can pick it up quickly, there's always more to discover, and you can play the game in almost any way you want. Yes, it is a "casual" game, but there's enough depth and pleasure in it that even hardcore gamers may want to give it a try. I currently have 111 hours logged and still haven't seen everything in the game. It's currently a mere $15 USD on the Humble Store and Kinguin. Remember that Kinguin will refund the difference if the game is cheaper on Steam!
The Review
Stardew Valley
Stardew Valley shows that simple design and concept can produce ridiculously enjoyable games. A game does not need to have a complex story, photorealistic graphics, or even complicated game mechanics to be immersive, fun, and rewarding.
PROS
Addictive gameplay
Charming old school graphics
Many things to discover
CONS
Somewhat repetitive mid-to-late game
Certain characters are underdeveloped