Destiny 2: Warmind DLC DEALS
Destiny 2's latest DLC, Warmind, dropped today on the PC, with many members of the game's dwindling community seeing it as a shining beacon of hope that the game right its course from the throes of failure up until now. Though the DLC had been on the horizon for a while, its contents revealed not too long before its release, much of the hope came from a profession by Destiny's Development team at Bungie that they would be opening their ears and paying more attention to the hardcore players and their requests.
The entire Warmind DLC portrays a new scene of events on the planet Mars, a fact given away by the DLC's trailers and a the fact of the name being 'Warmind'. Long-time Destiny players will recognize the names Bray, Rasputin and Sleeper Simulant, but the real star of the show, for me, ends up being Stephen Fry; who shows up where you'd least expect him.  I'll explain, I promise!
My concerns for Warmind are numerous, but with an equal amount of applause for, at the very least, Bungie's ability to adapt and not ride their own coattails. There will be warnings for any content that contains spoilers. Feel free to skip it, as everything else will be very well curated.
And as an advisory; I haven't tried the new Raid Lair yet. I'll get back to you on Friday.

PVP Rebalance Reignites Forge of Battle
The rebalance Bungie has done has made PVP enjoyable. Though, for some, the change to TTK may make it hard to adapt and the lack of radar in certain game modes may test luck more than skill, old favorites have been reworked and new pieces are invading the meta. Classics like Graviton Lance have been retooled into an annihilating one-two punch, and hand cannons have been rebalanced for greater falloff. SMGs and Pulse Rifles enjoy the benefit of their buffs given pre-DLC, but now their competition is fierce.
Two additional progress tracks have been added to the Crucible, with rewards for specific achievements, such as Hand Cannon headshots, pulse rifle takedowns and cosmetics for resetting this track after maxing it out.
It looks really cool but I'll be honest, I haven't had time to grind to 5th level yet. 600 pulse rifle kills is a lot, especially in a PVP game mode.
Big Warmind on Campus
The story for Warmind is a straightforward one, disappontingly, and a big concern for me is that the story is achingly short, leaving me asking for more but having little.
With roughly four missions to complete before the player is sent off to the races, the Warmind expansion offers a new Light-level cap of 380, pushing you into the real world and unhooking the storyline around the 340 mark and giving you some high caps for objectives. With the new DLC comes a grand amount of time-investment available to the enterprising player with daily quests not unlike those implemented in the Osiris expansion.
Players will find themselves cavorting across Mars with Ana Bray and Zavala arguing in their ears about ethics and, for once, finding their ghost as a worthwhile and not entirely tiresome companion.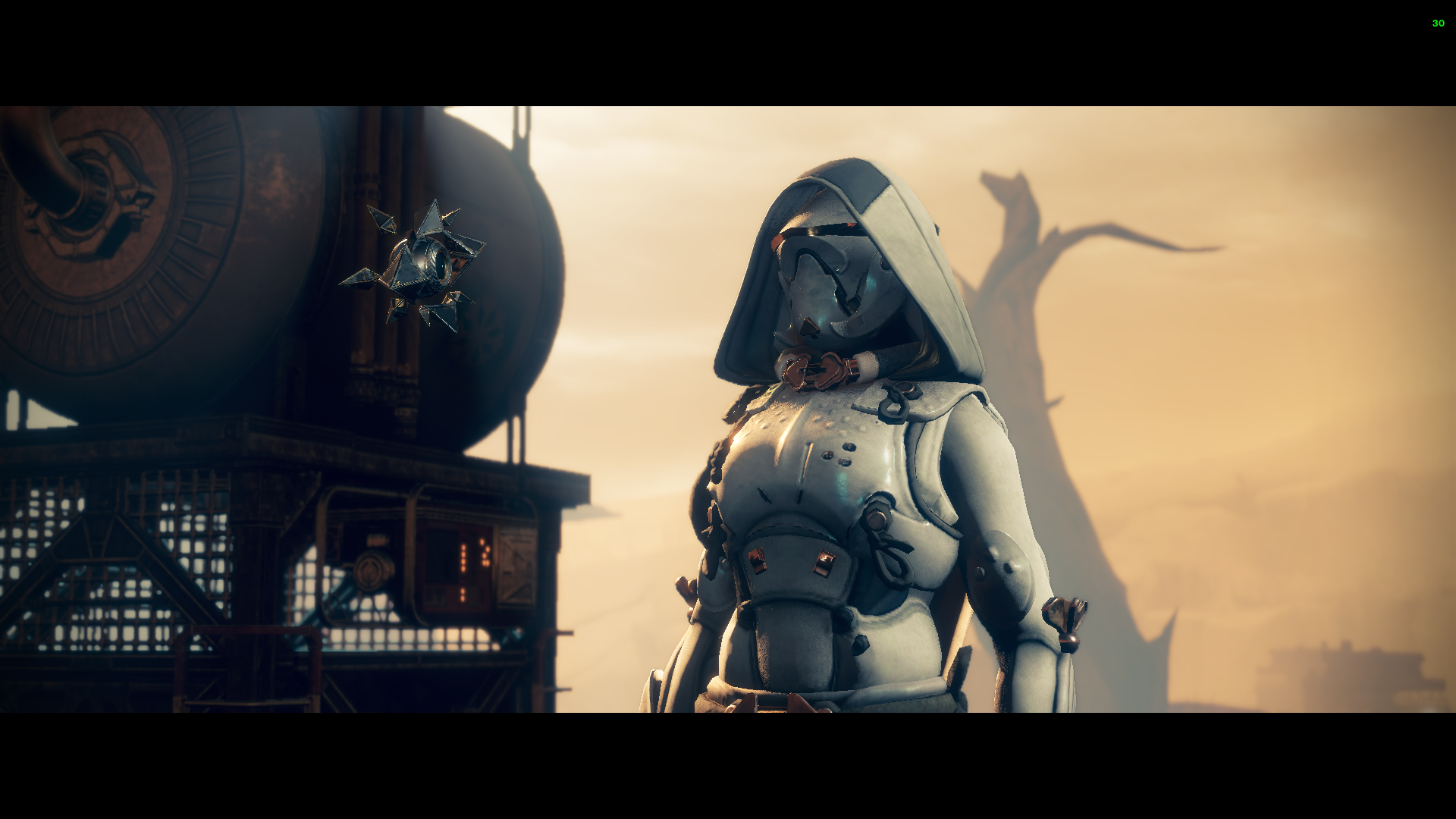 From Start to Finish
To start, the Guardian is alerted to a growing crisis on Mars, with the reawakening of the Hive and their Sorcerors on the wayward red planet. Long time Destiny players will remember Mars as site for numerous Crucible maps and a handful of Sparrow Racing courses, but newcomers or non-veterans will associate it with the addition, or reunion of old enemies that had been long missed from the game.
Vanquishers – Knights with large calcified shields, fused together with the wicked power of their Hive gods. Ultimately not too much of a change of pace from the Knight, the Vanquisher will gladly walk into your face with his big ol' shield and show you just how much it hurts to get hit with it.
The shield itself is not particularly hardy, though it can and will soak up a decent amount of damage. Solo, Vanquishers can be bulldozed down with enough firepower, but flanking them is rewarded with a quick death.
Adherent – A variant Acolyte armed with a long range low-rate Soulfire rifle, engaging enemies at extreme range, complementing the Hive's generally up-close-and-personal retinue of soldiers with a little bit more hard backline than the Shriekers tended to give. Taking them down isn't particularly notable.
Escorted through Mars by Anastasia Bray ( I see what you did there, Bungie. DON'T THINK I DIDN'T.) the player's character is (re) introduced to the Warmind Rasputin, which was last encountered on Earth. After establishing that Rasputin's main core has always been established here, on the Red Planet, you go about the time honored profession of clearing out any and all Hive between you and your objective : The legacy of the Bray Family, Clovis Bray, a facility of the company named after the family Patriarch.
Major Spoiler Warning
If you haven't finished the Destiny 2 Warmind Campaign, you are advised that there will be HEAVY story-based spoilers in the content below. Skip down below to where it says "END OF SPOILERS", if you wish to avoid them.
Here is introduced the Valkyrie super-weapon, a warmind-crafted super-weapon; a thrown spear with the awesome power to… well, explode on impact mostly. With a heavily timed mechanic and no ammo cost to be noted, the Valkyrie spear is inserted as a deus-ex in particularly difficult encounters, (and used post-Storyline as a 'reward') to combat especially challenging enemies or enemies assembled into large hordes. Bungie does this well, deploying and showing-off the Valkyrie numerous times and making it a satisfying thrill to impale those pesky Cabal dropships we see so often in the game with a (flaming?) spear.
Okay, Now, Actually the Plot
The primary plot of the story has you investigating the Rasputin installation and clearing Hive, retrieving a shard of the Traveller from earth and using it as bait for the Hive's Worm God, Xol. Ana Bray constantly harps on Zavala, telling him that they need Rasputin or there's no chance to destroy the Worm God.
His title is Will of the Thousands and his few lines of dialogue take on a very Belial tone, ala Diablo 3.
"There is no Light here." he booms, the world shimmering and breaking down around you.
And in the midst of his monologue.. the world goes black. It's an incredibly eerie and chilling moment, only seconds after striking down Crota's boy Nokris and banishing him back to Hive-knows-where. And it's only disappointing because of what wasn't done.
If you feel that Bungie could've put some really cool sort of Dream Sequence here, you wont be the only one, because once you've stopped 'blacking out' you're hurled back into Mars as a whole, as Zavala reports that Xol is beelining for Rasputin's core, to destroy it, and suddenly his anti-Warmind convictions don't exist. I just wish he'd argued about it a little.
Here the game starts to build up, and with a very potent boss to fight- nothing short of a God, the final boss fight with Xol is disappointingly underwhelming. While Xol is an incredibly powerful boss, and being, it reminds of the Thresher Maw in Mass Effect 2.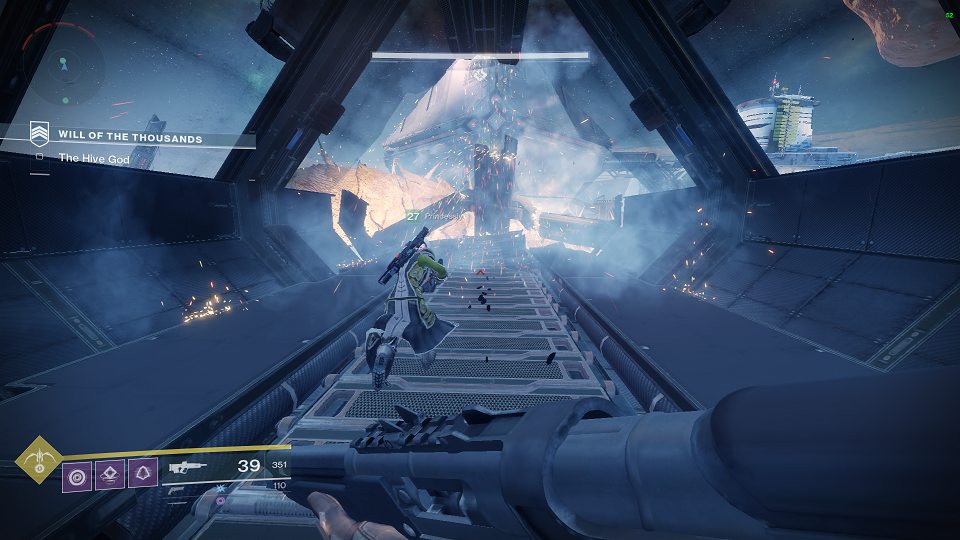 Xol patiently waits for you to shoot him, dipping back and forth between pillars and occasionally shooting a big ol' laser beam at you, heretofore named The Ichor of Xol. The beam is incredibly deadly but the delay is so beleagured and slow, there's not a chance you'll get hit by it. On the off chance you do hit this beam, or you're not paying quite enough attention to Xol's cues to dodge it, it isn't lethal, except during Heroic Strikes.
The same can't exactly be said for Xol's lunge- If Xol wants to eat you, he will, and by god, it will be lethal. He either lunges, quickly, gobbling you up like a cheetoh, or drags his body across the battlefield with heat-seeking efficiency and DARING you to move out of the way.
This fight disappointed me for the sheer fact that, pre-fight, you go through the excessive route of unchaining Rasputin's mind and overloading the power core of the nearby 'limiter' facility that was keeping the AI in check.
Upon doing this, you supercharge the Valkyrie weapon in order to give you the edge in the upcoming Xol fight, but… well, you don't even really need it. You can just as pleasantly mow him down with the Mob Justice you get from the Raid or any other weapon you fancy.
What was missing, for me, here, was some kind of intervention on Rasputin's part- some kind of moment at the end where Rasputin's guns turn on Xol and the enormous Anti-Aircraft batteries you see at the end assaulting the Hive's ships… instead turn on Xol and barbecue him like some kind of deep sea bug commonly enjoyed with cocktail sauce or noodles. Xol is meant to be this intense and powerful Hive Worm God- second in power only to the Darkness as a whole, and… well you just kinda shoot him a bit. There was so much potential here and much of it lost simply to… well shooting a big worm that has a lot of patience.
Ana emphasized that the Guardian needs Rasputin, but… well, we don't.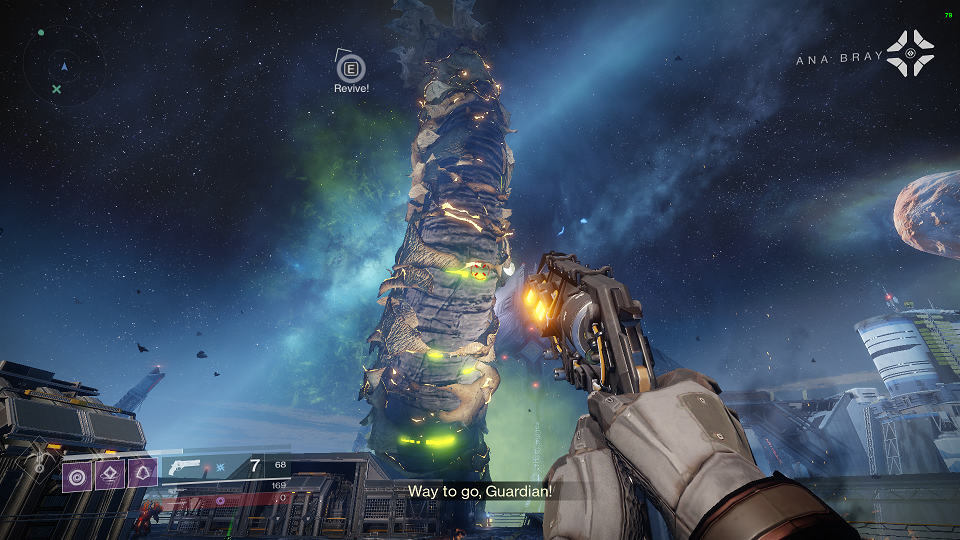 (It's alright, I know I'm a party-pooper. I took this Screenshot on my Heroic Strike re-run.)
— END OF SPOILERS —
On the other hand…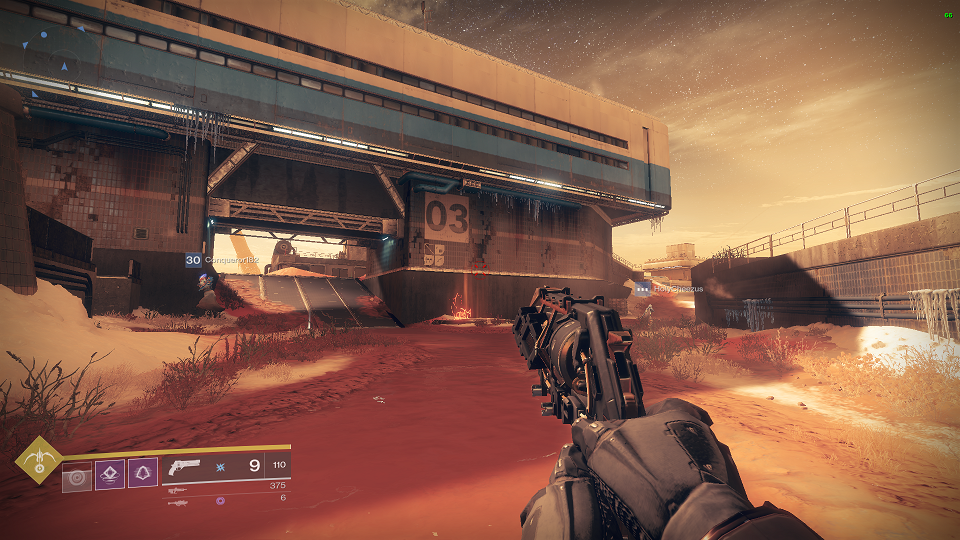 Mars is gorgeous. The world here is incredibly vivid and detailed and harkens back to the Mars of Destiny 1, perhaps triggering a sniff of nostalgia in the long-time players, and though the map here is about the same size as Mercury, more secrets are tucked away in its depths, and more content is hidden here… in the form of Escalation Protocols.
Escalation Protocols are not unlike Public Events, but they can be called up any time, activating one of Rasputin's panels scattered across the map like chocolate chips. And as soon as the Hive get sniff of it, they come running.
Arriving in greater and greater force, the Escalation Protocol is a four-stage public event where the Guardian must eliminate hostiles or complete another objective within a roughly 3 minute timer, culminating in a boss fight against an incredibly hardy Ogre. These battles scale with the Light level of the person who activates them, so definitely be aware of those Dagger and Skull symbols.
Here you're rewarded with Rasputin Armory Keys which can be used to unlock the Valkyrie weapon, either for your use in Cabal Public Events, WARSAT defense events or further Escalation Protocols to your pleasure. It can be intensely satisfying to huck a Valkyrie at an Ogre and watch the thing go down in flames, but the Rasputin Armory is only accessible in certain locations, and only while an Event is active in that area.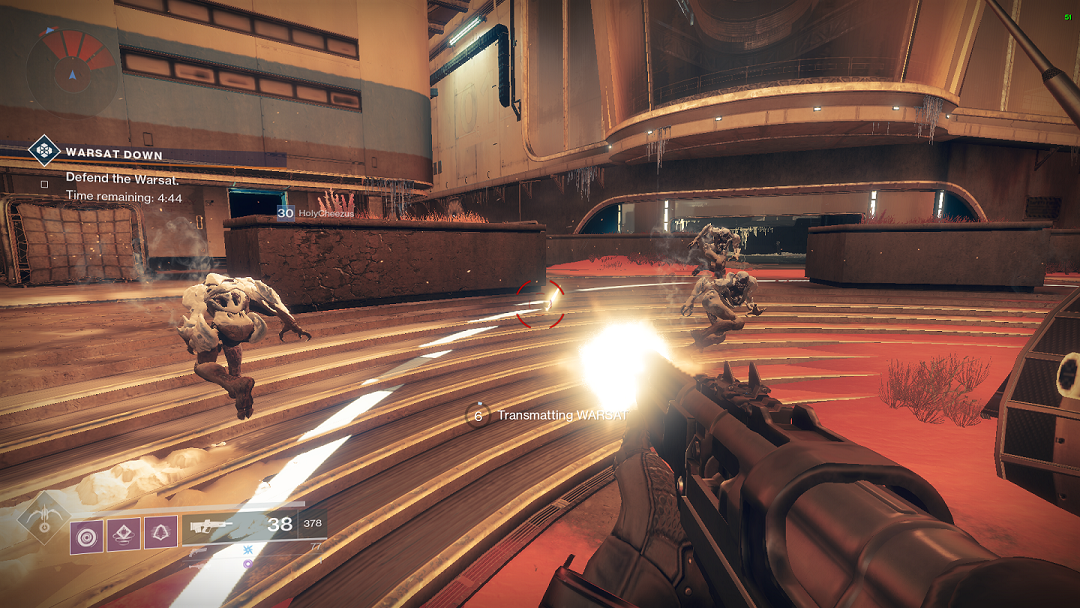 Post-Storyline, you will be undertaking a quest to help Ana decode special Engrams given to you by Rasputin himself, specially encoded out of data files long lost. Completing these events awards a number of weapons stylized in the design of Sleeper Simulant from Destiny 1, the first of which you get being a Hand Cannon, from Ana herself.
From there you are challenged to complete further tasks, identical to the Glass Garden weapons from Mercury, in order to earn the next one.
The weapons look amazing, and the Hand Cannon is definitely very nice, but whether or not they stack up to other weapons is left to your discretion. The first task is daunting, and I really hope they following articles will have more interesting objectives…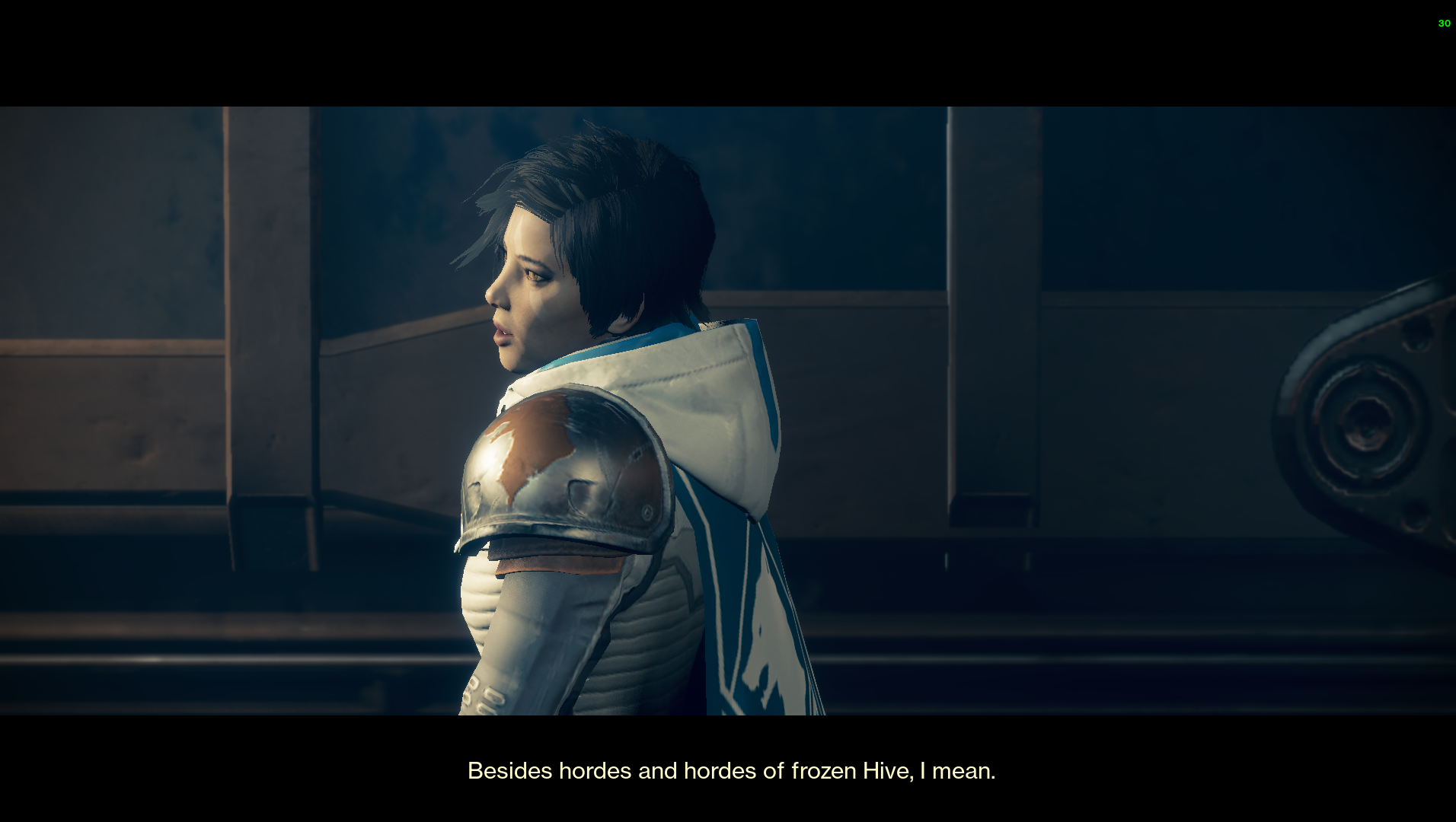 The Voice of For-No-Reason
I've hammered this DLC a lot, but nothing here bothers me more than the absolutely atrocious deadpan performance delivered by the Voice Actor portraying Anastasia Bray. The character's lines here give no emotion, inappropriate emotion, and at times, Bray seems to be violently shoehorned in and not told what her motivation is. It's clear that Miss Bray has some kind of intriguing past, but her voice actor simply doesn't care about it at all. It hearkens back to the Dinklebot. Days where Peter Dinklage put little emotion into his own role come to mind, and it does not come off as flattering for the character of Ana Bray, who is already a Mary Sue. Man if you want specifics, there's this one line in the very BEGINNING of the DLC where she says "Get away from my ghost you hive filth!" and it's absolutely flat.
On the contrary, Lance Reddick, the voice actor of Command Zavala left me stunned with a few moments of incredible talent, delivering more emotion in his voice than I thought Zavala could even manage. Zavala has always been a very mild, even-toned character, a bit deadpan himself, and this deviation from the norm was beautiful. Which was what made it so disappointing when he backed down to Ana's insistence that the Guardian NEEDED Rasputin to stop Xol.
I know Zavala's not a stubborn mule, but he could have made the case- After all, especially in hindsight, what was done ultimately freed a dangerous and violent Warmind Intelligence from its shackles. There's a lot of missed moments, like the post-Nokris moment I complained about, and that's what Bungie has kept doing, over and over; Missing moments where they could have something amazing, and it rarely, and especially not now, seems if they've learned much from previous failures. I'm not at all saying that the game is a failure, just that it lacks that sparkle on the shine that could move it from a 3.5 up to a 4.0 or HIGHER on the  1-5 scale. Even now veteran players are telling me to wait for the next update, and I'm sighing in impatience.
Okay, Fine, Eververse finally has some cool stuff.
Surprisingly, yeah. I wont write too much here, but check it out yourself. I want this damn speeder bike so bad.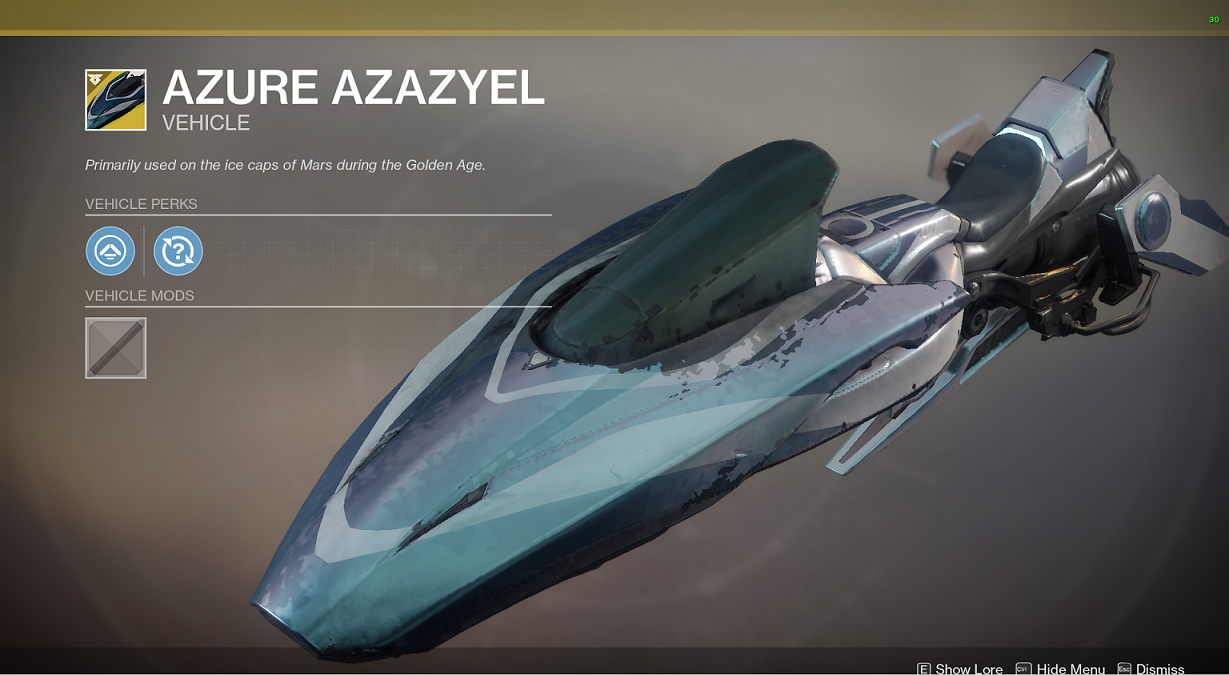 All-in-all, the DLC has mollified me, just a little, compared to my previous complaints about the vicious grind in the Osiris DLC. Warmind is promising, but all the pro-Bungie propaganda about the game is blind and shortsighted. Nothing in this Expac is promising any longevity for the game, and little more seems to be on the horizon in promise of keeping people grounded, other than an extra long level-grind and rehashing the same content in a small, contained area.
See you Saturday with a review on the Spire of Stars Raid Lair!
The Review
Destiny 2: Warmind DLC
An acceptable but lukewarm revival for the twitching body of Destiny 2. If you were trying to fight off hypothermia, you wouldn't clutch this to your chest, but longtime Destiny fans will find a new ball of yarn to play with for another 50 light levels and a new Raid Lair with Heroic Argos on the way.
PROS
Beautiful Aesthetic of Mars and the Warmind Facility
Great Music but a little generic.
Return to Form on making Exotics "Exotic"
Long-awaited modes like Horde-esque Escalation Protocol
Reworked PVP is FUN
New guns are satisfying to shoot.
CONS
Deadpan Voice Acting
Story inconsistencies, weird character insertions and a loss of the "Rule of Cool" Destiny has normally had.
Uninspired End Boss
Music is evocative of generic sci-fi music, and not artfully or intentionally so. Music can be unremarkable or just simply forgotten without effort.
I mean, it's still the same game.
Review Breakdown
Life Support/Long-term Factor

0

Fun Factor

0

PVP Health

0
Destiny 2: Warmind DLC DEALS
We collect information from many stores for best price available
Best Price
27.00