Possible Spoilers – This look-through is generally spoiler-free, but I will caution anyone who doesn't want an extensive explanation of how to play the game as it may cheapen the experience.
Though I'd missed it at first, Cultist Simulator was a game that finally caught my eye after returning to play Slay the Spire in last week's splurge. Much like Slay the Spire, Cultist Simulator is a card-based game, though unlike the Deck of abilities as in Spire, Cultist Simulator takes a more solitaire-esque approach, setting the player out before a table, a few cards, and a number of 'verb' tiles.
This game has been out for about a week, admittedly, and has been featured in places such as Humble Bundle (as a matter of fact, it was the first game I've ever seen that they themselves have published) as an early-release title, and has gotten a huge blast of notability since its release. Affectionately crafted by "The Weather Factory", an IP owned by the founder and writer for Failbetter Games, Alexis Kennedy, Cultist Simulator is a deeply faceted game, one with many paths to take, and many doors to open… and a handful of bumps in the road.
I will say, there is a lot to cover, here. The hardest part is deciding where to begin…
The Basics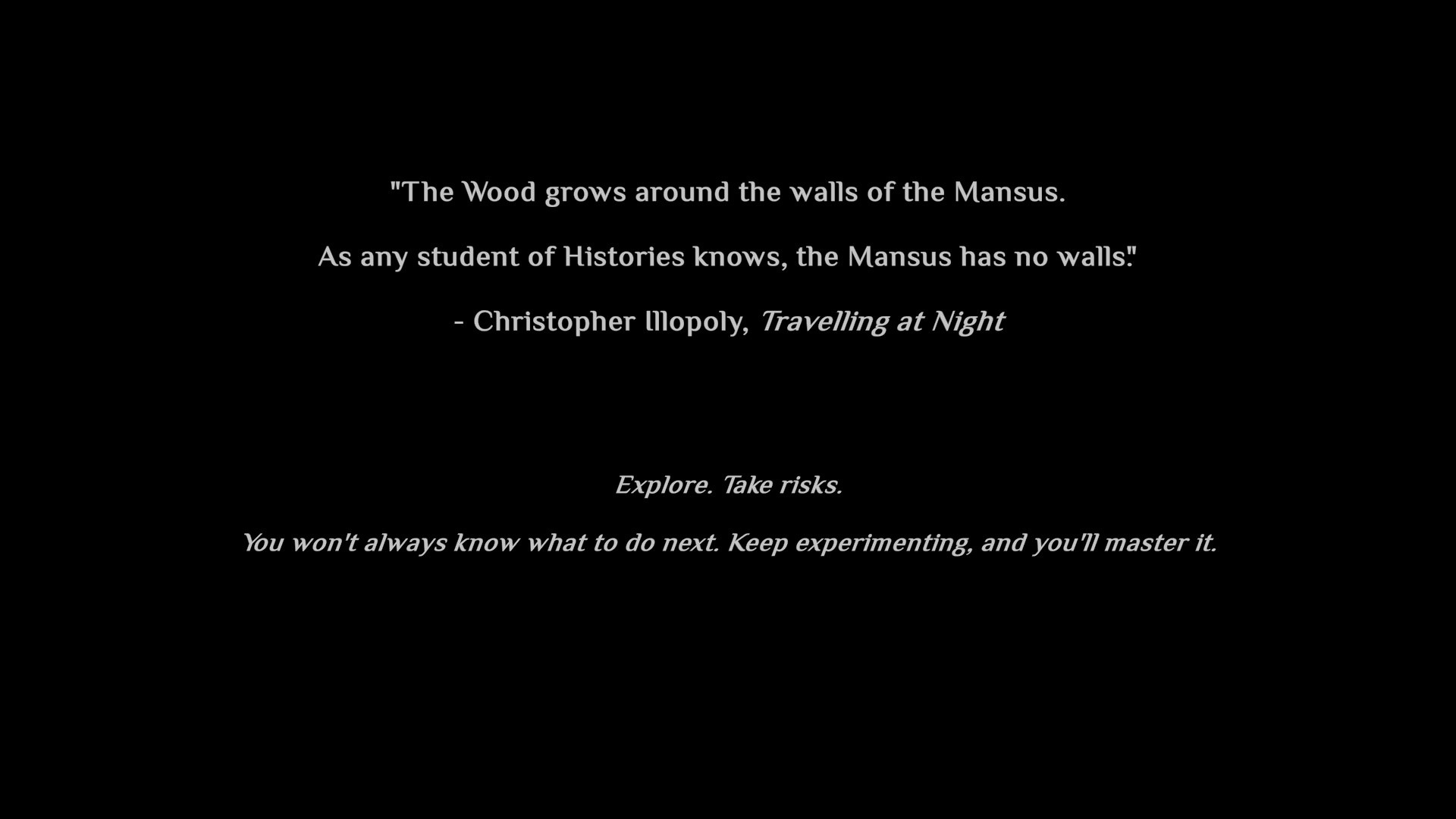 Cult Simulator starts in a rather inundated way; You are not, initially, given a choice of Legacies, as they will be detailed below. At first, you are simply forced into a place to start, the rung upon which you stand as you examine the ladder above you, twisted and spiraling off into madness. You are a man, a simple being who has been recently put out of a job, and whose dreams have begun turning… strange. For there you must find a new job, a way to stay alive. Without money, you may grow ill, you may starve until your body finally whittles away.
With luck, prayer, and maybe a bit of willpower, it will not, and you may actually make something of this wretched life.
The important basics of the game are in the 4 main 'stat' cards held at the bottom of the screen.
Health, Reason, Passion, and Funds. The fate you select may mean that you start with different values in each of these categories. Most will start with just 1 Health, 0 Passion and 1 Reason. Other paths will gift you more, such as wealth or even special jobs.
This bar is for ease of reference, as the cards will sit on your table in reflection of this number.

Health is a Vital Thing
Health represents your own body, the health in which you are kept, and the exertion of effort. Certain activities will call for your Health, expressing exertion of your own form, or, in much worse cases, sacrifice. Health expended to temporary forces, such as an exertion of heavy labor at a job, will be Fatigued. Other situations may reward you with a Wound, or an Affliction.Such wounds and Afflictions must be cured, either with medicine or time. Vitality can be used to recover certain ailments, but must be kept on-hand to aid in quick recovery. Without attention, wounds and afflictions will become permanent, and with no Health cards to speak of, Death will surely approach.
Passion is fire, man the moth
Without passion, your efforts will be dulled and uninspired. Passion is used when speaking to others, pushing yourself to choose something that no sane many would choose, or delving into the dark depths where fear is your lonesome companion. Some paths are bereft of passion until a catalyst sets them aflame with energy. A lack of passion will not end the game, and there are ways to improve it, given that you have at least one Passion to speak of. The flame of Passion will not die, fortunately. Some are afloat in Passion, and need not to increase the amount until later, but those individuals find themselves bereft of the essentials of Health or …
Cold, Hard, Reason
Reason is simply that, cold, hard logic. Sense and the measure of intellectual capacity. Reason is demanded in some jobs and will be 'dimmed' after its exhaustion, but Reason is also needed to make sense of more exotic manuscripts and understand, compile or research other forms of bizarre knowledges. A number of Legacies gift you with a large amount of Reason, letting you puzzle through the complexities of occult magic, but lacking in the vigors of Health or the perspicacity of Passion.
Cold, Hard, Cash
Money is not 'essential' but without it, life becomes much, much harder. No, in truth, money is the key to open many mortal doors, whether it is buying items at auction, purchasing the deed of a ne'er-do-well locksmith or paying for your own bread and water, gold is king, and must be obtained through a mundane job, auctions of your own, or taking jobs for certain… clients. Money buys resources for expeditions, the silence of those who would oppose you and, once in a while, a dose of opium to make the Night Terrors go away.
The Not-So-Basics
A Cult and Its Desires
Each desire is one you are able to 'find' on your own. It derives from the first piece of Forbidden Lore you stumble upon, but can be adjusted and changed before you 'lock in' your choice some time later. There are as many Desires as there are possible bits of lore to find; Lantern, Knock, Chalice, Heart, Edges, Moth, Winter and even Forgotten Lore each hold their secrets and a bit of the forbidden magic of The Mansus, and unlocking those secrets may be the key to Enlightenment, perhaps you simply wish to know… or something simpler and more carnal is to your desire…
Desires and the Paths of Ascension are numerous, and I will not spoil them here, as they are a major part of the game that change how it is played simply on merit of being what it is.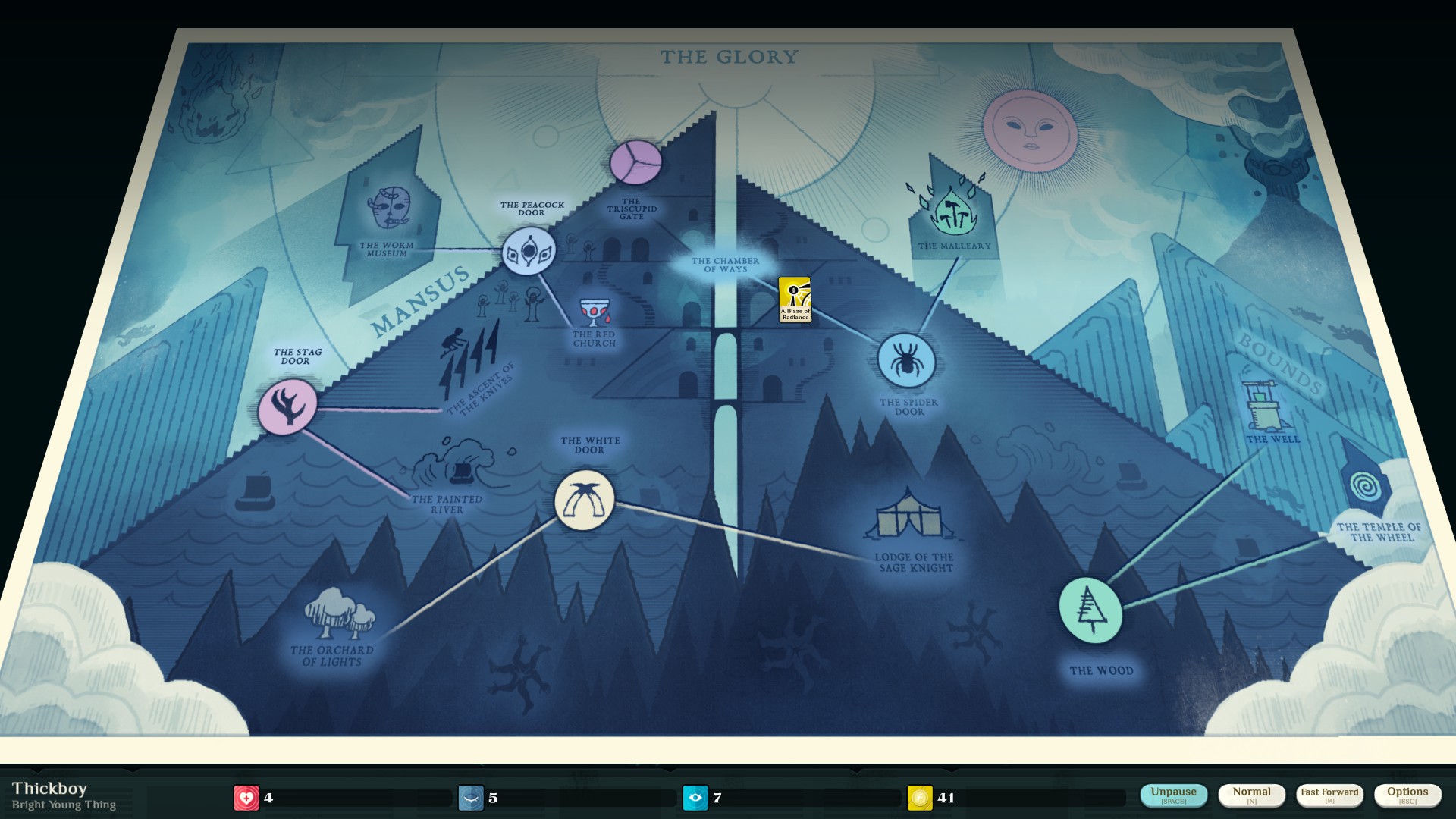 All desires will demand that you enter the Mansus, at least once. It is a cryptic realm where the Hours sleep and wait. A place where demons and horrors come from. A place where you will enter, willingly, and search for the scraps of things you should not know. The Mansus is, for one, a great source of Forgotten Lore, and Forgotten Lore is essential to begin expeditions.
Expeditions
Later in the game, Expeditions are a necessity; archaic tomes do not simply unearth themselves from forgotten, Phyrigian ruins, after all. Hell, in time, you may find yourself plundering a circus in rumour that one of the Carnies there has come into possession of an enchanted mirror. You'll have to do whatever it takes to get your hands on what you desire and see your cult ascend.
Expeditions will have a number of obstacles, and each 'obstacle' in an expedition can be solved in one of two or three ways.  For example, on an expedition, a group of witnesses can be deceived, seduced or simply killed, depending on the Secrets that that Cultist partaking in the expedition best aligns themselves with. If your strongest cultist is a holder of the Secret of Edges, he simply kills the witnesses before they can become bothersome. With the Secret of the Chalice or Heart, the witnesses will be seduced, for good or ill.
These Secrets your cultists hold are selected on their recruitment into your Cult, and cannot be changed, though they can be improved, and greatly so. Other solutions than the ones proscribed or hinted at may exist, but they will not be without their risks.
The End of Things; Death
Death comes in numerous ways in Cultist Simulator- from delving deep into many layers insanity to the simplicity of starving and eventual expiration in that way. The game will end when you have accumulated enough Dread- cards the represent the logical part of your brain analyzing the horrors of you've glimpsed, or Obsession, your mind teased and tickled by the mad enlightenment that hides within the Manse. Regardless of how it's done, once the threshold is reached, you are given roughly 60 seconds to 'counter' it, to find some Contentment to still your fearful mind- to strike sense into your curious self, or to recover from a critical wound. Sixty seconds. That is all.
And upon your death, still will the Secrets of the Manse remain, and another, with vision greater than before, will start anew;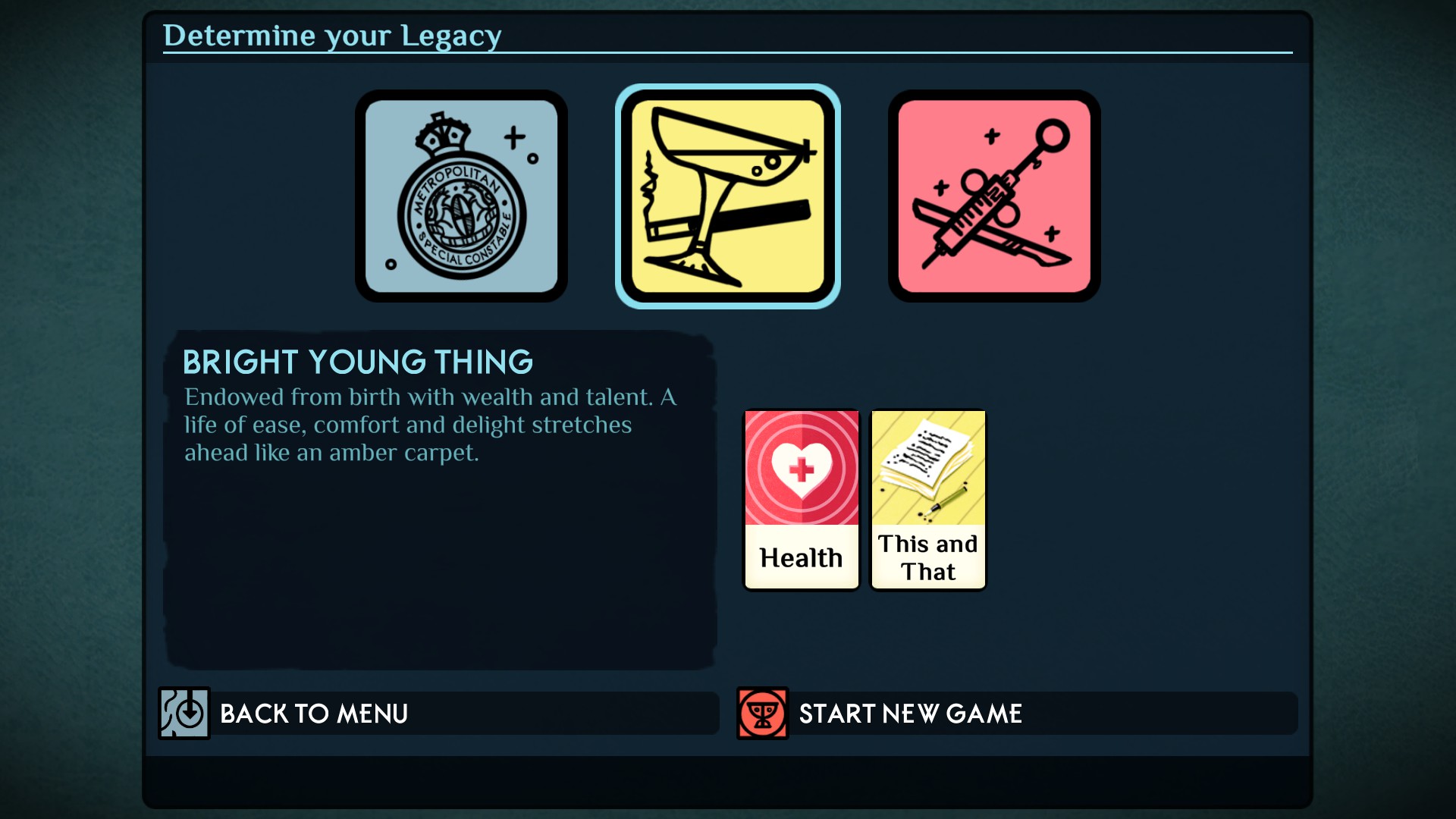 When, and if, your body finally succumbs to the harshness of the world, you will be given a choice to start anew. You are not the first, nor will you be the last. The worm of madness will hide deep within someone else's mind, to coax their spiral into insanity or perhaps to see them desperately claw against it.
Each Legacy has its own, interesting set of  short-term goals or a general set of starting conditions. There is the doctor, with his job at the local institution of health. The Heir or Heiress, with wealth, an ailing father and little more. And more interestingly, there is the Suppression Bureau Inspector- a man chosen to fight the Occult Magics.. only for him to succumb to the madness he hunts.
How you proceed from each origin, whichever you pick, is completely up to you. Your descent into madness is at the whim of the cards, and the hands of fate. Perhaps you find yourself with an original, Greek Manuscript about the Serpent-Mother and suddenly your mind is set ablaze with the possibilities of wounds, hidden in the world.
Treasures in Hard-to-Reach Places
An amazing thing that Cultist Simulator does is weave a rich, interlocking puzzle of a story within the medium of a card game. One thing that it does not quite do is value your time; The game keeps multiple levels of tedium to hold you back from progressing too quickly. It is an engrossing experience to play the game, but as the developers have said: Cultist Simulator is somewhere between a 20 and 40 hour game.
It can be breathtakingly difficult to pick up and put down this game, and the simple addition of a 'repeat' button on some of the game's 'verb tiles' would be incredible beneficial. The vague sorting system the game has doesn't alway keep cards from ignoring their own 'stacks' and just flying about like moths around a lantern, but for the most part, it manages.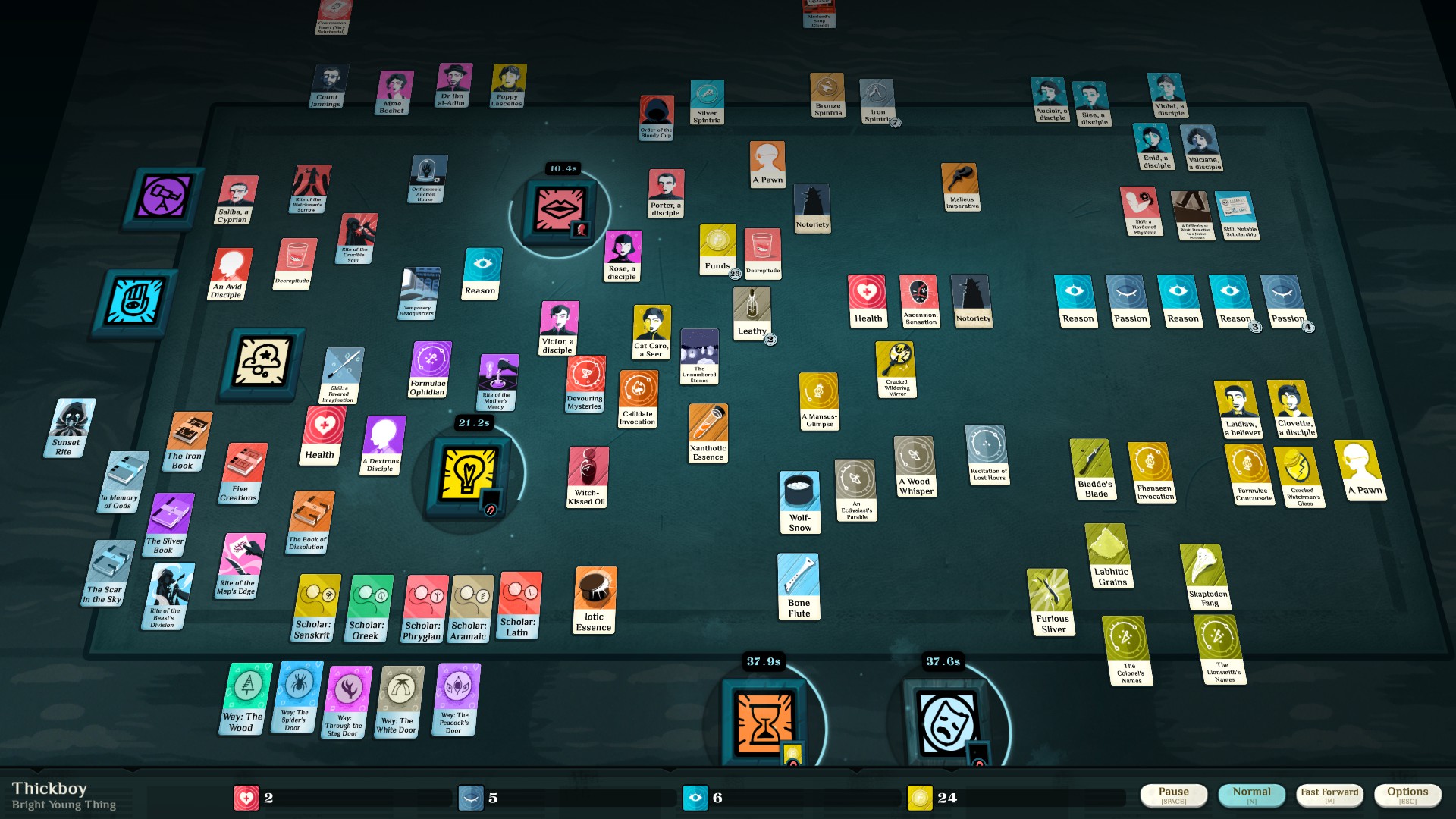 After seeing my own Spintria (they're a special kind of coin) splash into a mountain of cards and send them scattering around, I've grown numb to the sensation of desiring to organize my desk in Cultist Simulator.
The heaviest complaint I have is that cards that interact with other cards, or cards that become 'depleted', do not care that they were in a stack before they were utilized and will splash down ontop of their previous home and scatter their compatriots off into whatever nearby spot it can occupy. Sometimes that spot is out of sight, sometimes it's just somewhere nearby. In any and all cases, it's a mild annoyance.
No Greater Torture Than a Job
While playing the game, keeping a job and keeping yourself funded can be agonizingly time-consuming as the pull on your purse grows more demanding. Maintaining a job is a further and further tedious task as you get deeper into the game, requiring more funds to pay for expeditions, needing more time to find and decipher books of lore, and them, worst of all, needing to do it over and over, ad nauseum until your pockets are full enough to say 'okay maybe I wont starve for a little bit'.
It can be a challenging feat of multi-tasking to constantly keep your job running and producing profitable results, even when you escalate to the point where you're doing commissions for scholars of the Invisible Arts such as yourself, but when those commissions finally pay off, you're waiting further time as you either auction the Spintria that you received or holding onto them for other reasons. Meanwhile, you're also making sure your health remains at the 'normal' level, sleeping off afflictions or using Vitality to cure your wounds, doing a careful tip-toe balancing act as you regular your levels of Fascination and Dread, and then balancing your checkbook to make sure you can eat another day.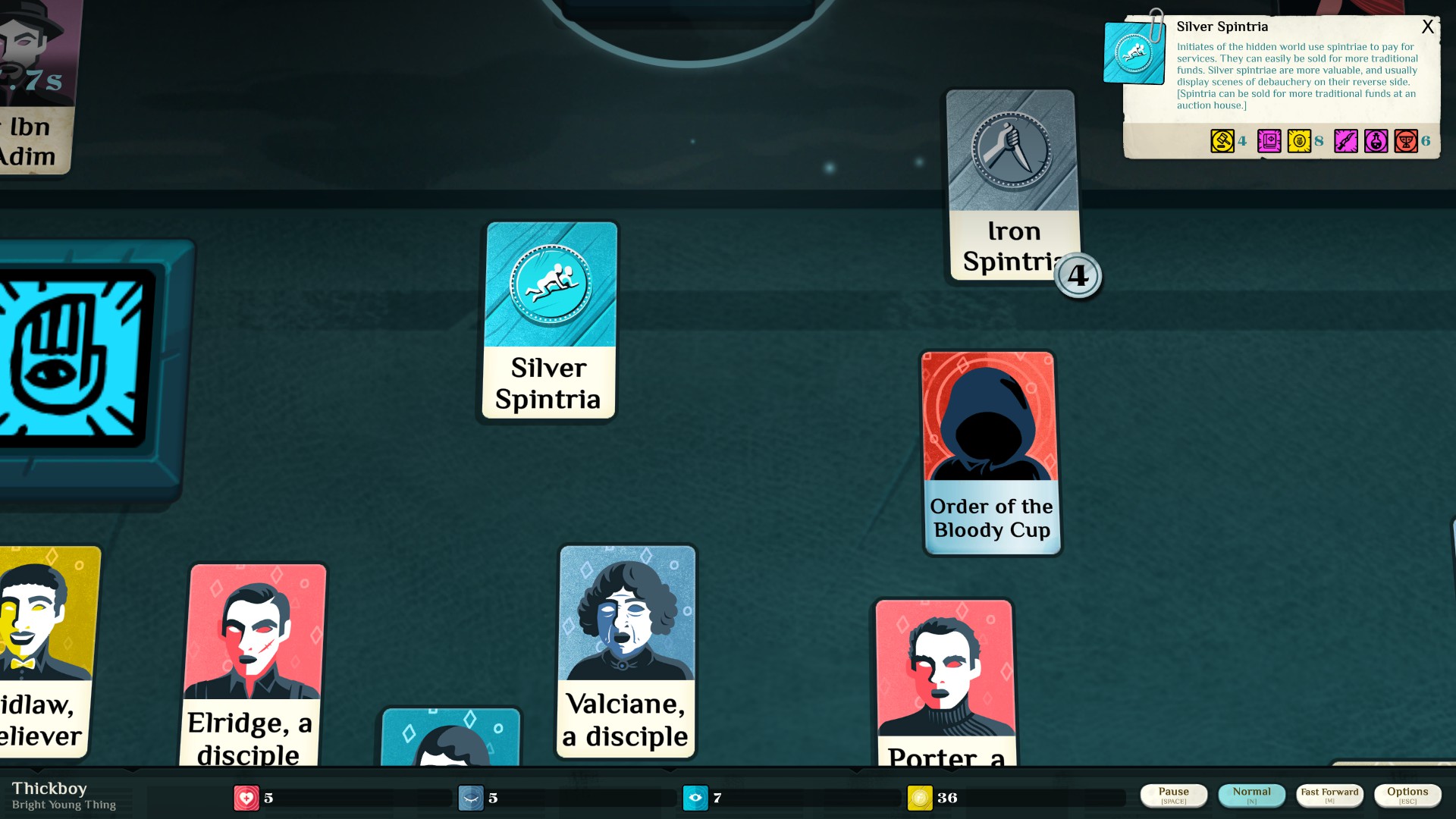 It's definitely not a game-breaking gripe but it is one that grated on my nerves, especially as money became tighter and tighter. I just needed to keep doing the essential motion of interrupting my train of thought to pass the Job card into the Work slot and hit Start. I can't even imagine how many times I've done it, now, but I dare say it numbers in the thousands. All I need is a 'repeat' toggle or something, yeesh.
In Conclusion…
It's a wonderful game, especially if you're a fan of the Fallen London game done by the same people, but some interest in the cards of Cultist Simulator comes solely from the power of imagination. Some cards will provoke minor animation, but for the majority of the game, your mind is the 'cinematic'. Even without the repeat button I've demanded, it is a great piece of narration, as each card, each event, each verb, is tied in with perfectly provocative scraps of a story, letting the mind wander and assemble the tale it views as most interesting.
It's not a game for everyone, but those who do enjoy it, will thrill at the experience it offers. I'm willing to admit that I'm bad at the game if that explains why I happen to have two decrepitude cards. I welcome anyone to give themselves to this game and see how they like it, as long as they have 20-40 hours and, if not, don't mind trying to figure out where their head was at, staring at a huge table full of maybe 100 cards.
The Review
Cultist Simulator
A solid, imagination-reliant game that features the written fruit of Alexis Kennedy, the mighty tree from which treasures such as Sunless Sea and Fallen London have sprouted. Cultist Simulator is a fun, time-swallowing game that pulls the player deep into convoluted lore and a slightly tedious system.
PROS
Amazing storytellings and rich 'snippets' of Lore hiding under every stone.
Incredible amount of paths to choose from, even ignoring the possible Legacies.
Developers promise to add more content and claim it is a 'living game'.
Gorgeous, Minimalist Art with cards that 'breathe'.
CONS
Games take 20-40 hours as claimed by developers, granted you don't die.
Tedious implementation of certain 'required' tasks makes much of the game an immersive but frustrating fight to obtain funds.
Review Breakdown
Gameplay

0%

Story (Err.. well, Story POTENTIAL)

0%